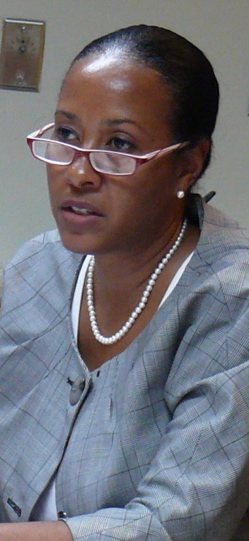 Darice Plaskett was formally installed as acting chief executive officer of the Juan F. Luis Hospital Wednesday during a meeting of the St. Croix District Governing Board of Director's of the Virgin Islands Government Hospital and Health Facilities Corporation.
Plaskett, who remains the hospital's chief operating officer during the transition, was unanimously voted in to temporarily replace outgoing CEO Gregory Calliste, who tendered his resignation earlier this month to pursue a job opportunity in New York.
"When we interviewed her we were very impressed with the self confidence she had," said board member Joyce Heyliger before the vote. "She's very experienced and knowledgeable and remember this is not new for her. She has done that job in the past, whenever the director was away she was acting CEO."
During her first report to the board as acting CEO, Plaskett said the Joint Commission on Accreditation of Health Care Organizations, which fully accredited the hospital in June, had just recently paid a follow-up visit to check on the hospital's progress in making the changes in its hemodialysis program recommended by the commission. Feedback she received from the commission during the visit was positive.
"Of course, while we are very optimistic, they will give us the official word on the visit very soon," she said.
Kidney care remains a major and growing challenge for the hospital. With a rising tide of diabetes-induced kidney disease in the territory, the hospital needs more kidney dialysis machines, beds and stations, Plaskett said. But she said preventive care and education were critical to stemming the steady increase in these chronic, life threatening conditions over the long term.
The board also welcomed Dr. Keri Biscoe, the board's newest member, to her first meeting.
Calliste announce his resignation at a special meeting earlier this month, saying at the time he would remain on the job until October and would remain available until to the end of the year. Plaskett, however, took Calliste's place as CEO Monday, prior to being formally approved by the board Wednesday. Asked whether Calliste would continue to draw a salary over the next six months, board chairman Carmelo Rivera said Calliste had accumulated vacation and sick leave, but the board and the hospital had not worked out the full details as of yet.
With an interim CEO in place, the board will soon begin the process of scouting for a permanent replacement, with an aim toward installing someone by January, Rivera said.
Board members present were Biscoe, Heyliger, Plaskett, Rivera, Imelda Dizon, Valdemar Hill, Wallace Phaire and Kye Walker. No board members were absent. Sen. Patrick Simeon Sprauve, chairman of the Committee on Health, Hospitals and Human Services, sat in on the meeting.