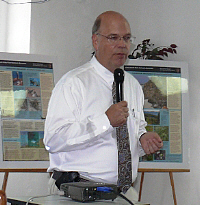 A bill working its way through Congress may radically change the way federal salaries are set in the Virgin Islands, from regional salaries based upon cost of living to one based upon private sector pay for similar work.
The bill, titled the Non-Foreign Area Retirement Equity Assurance Act of 2009, has passed the U.S. House of Representatives. A similar bill in the U.S. Senate is considered likely to pass.
Advisors to Delegate Donna Christensen joined U.S. Office of Personnel Management officials for discussions on St. Thomas and St. Croix Tuesday to help federal employees in the territory understand what to expect and to carry employees' concerns to Congress. At one such meeting in Christiansted's Old Post Office Tuesday, Deputy Assistant Director of the Office of Personnel Management Chuck Grimes said the purpose is to save money over the long run, but in the short term no one's salary will be reduced.
"Protecting retirement equity and protecting take-home pay were the biggest concerns going forward with the change," Grimes said. So the bill was crafted to gradually phase in the change with a formula that ensured no one would take a pay cut, he said.
Currently, the U.S. government pays cost-of-living allowances (COLAs) to white-collar civilian federal employees in the Virgin Islands, Alaska, Hawaii, Puerto Rico, Guam and the Northern Mariana Islands. Roughly 49,000 employees, including some U.S. Postal Service employees, receive COLAs to their base salaries.
Personnel Management surveys the prices of goods and services, housing costs, transportation costs and other expenses, setting each area's COLA by comparing it with the cost of living in Washington, D.C.. COLAs are exempt from federal income tax but may be subject to state and local taxes.
Under the likely new system, cost of living will no longer be considered and instead comparable private sector pay will be the yardstick for setting "locality pay."
Several of the federal employees at the discussion meeting raised concerns about setting their salaries based upon Virgin Islands pay levels, which are relatively low compared to the U.S. as a whole, instead of upon the territory's high cost of living.
Grimes said locality pay grades would be determined by pay for similar work, not by the general level of pay, so he did not foresee a problem.
"You all don't do jobs comparable to those in the tourist industry," he said. "You do jobs comparable to certain industries such as computer engineering, data management and so forth."
Assuming the bill becomes law, COLA will be phased out over three years, from 2010 to 2012. The current COLAs are tax exempt and do not count towards retirement pay, while locality pay will be part of base pay and will be taxed.
The new system will cause employees to pay more taxes and contribute more to their retirement plans at a given income level, as it is phased in. So to ensure take-home pay is not cut while the plan is phased in, the employee will give up only 65 cents of the COLA for every dollar of locality pay he or she receives.