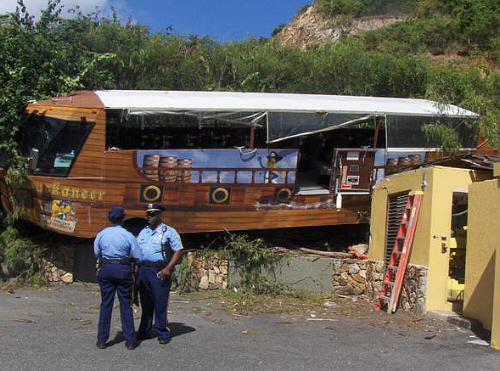 The July 1 accident involving the Duckaneer, an amphibious tour bus, was caused by poor maintenance, V.I. police said Friday.
Traffic Commander Sgt. Roselyn Jarvis said that following an extensive investigation into the accident it was concluded that the amphibious tour bus was poorly maintained and had extensive corrosion to the undercarriage, according to a press statement from police spokeswoman Melody Rames.
The corrosion caused the clamp around the brake chamber to separate, Jarvis said. When the driver attempted to apply brakes, the brake compression was inadequate and the brakes didn't work.
The driver was found negligent for operating a vehicle with defective brakes, the release said. The investigation was completed Thursday. There was no indication that charges were filed.
Speculation on the accident's cause has been second to the collective sigh of relief expressed by the community, that 50 people – 48 cruise ship passengers from the Freedom of the Seas and two crew members – were spared serious injury when the bus came to a stop at a generator house on the Emerald Beach Resort property. There were no fatalities.
Duckaneer owner Michael Baird has maintained that he has "no notion" what caused the accident. The Source first contacted Baird the day of the accident, when he lauded the emergency crews as well has his driver, whom he identified as Sumner Hugh.
Earlier this week, Baird said he had "no update" on the accident's cause, adding that he was busy with insurance matters. He said he thought it might be another week before the cause was determined.
On Friday afternoon, Baird said, "I have not seen a police report [on the accident]" and declined comment. He did say the Duckaneer was inspected at regular intervals, but beyond that, "I have nothing else to say."
According to the U.S. Coast Guard, the Duckaneer is up to date on inspections. The Source has not been able to confirm with the Bureau of Motor Vehicles whether the bus is current on its road inspection.
Alan Wentworth of Sea Tow Virgin Islands said earlier this week that he has towed the Duckaneer from the harbor "probably four times in the last year." He said, "It was a situation where they engine automatically shut down the entire system, and before we got back to the dock, it would come back on. It must have been an electrical failure or a computer failure. Experts came from the States to try to figure it out."
The Duckaneer began operation here early in 2007. At that time, Baird told the Source he had laid the groundwork for his enterprise a year before, getting permits and licenses from the local government and the U.S. Coast Guard while waiting for the Duckaneer to arrive from the States, where it was built to order.
"It is state of the art, an aluminum shell stuffed with foam, which makes it almost impossible" to sink, he said at the time. It does seven knots on the water.