"With the grace of God, together as a community, we can win the war against gun violence." –Gov. John deJongh Jr.
With skyrocketing gun violence rendering the Virgin Islands a veritable Wild West, and the murder rate more than five times the national average, the federal agency charged with helping to regulate guns and fight violent crime has packed up and left the territory.
Precisely when the Virgin Islands needs all the help it can muster in fighting violent crime, it is navigating without the services of the Bureau of Alcohol, Tobacco, Firearms and Explosives (ATF), whose mission is to protect communities from violent criminals, criminal organizations and the illegal use and trafficking of firearms, among other things.Not only has the ATF left, but assistance in local crime matters from those federal agents who remain, such as the Federal Bureau of Investigation (FBI) and the Drug Enforcement Agency (DEA), has ground to a halt, according to a confidential government letter obtained by the Source.
"Now, given the current legal and factual positions taken by the Virgin Islands Government, federal agents are not responding and will not respond…," wrote Paul A. Murphy, acting U.S. Attorney for the territory.
Murphy's May 13 letter to Virgin Islands Attorney General Vincent F. Frazer raises the question of "payback," shows how friction between federal and local law enforcement prompted the ATF's departure and has complicated if not compromised investigations, and paints a vivid portrait of a problem local residents have griped about for years: their lack of faith in local police.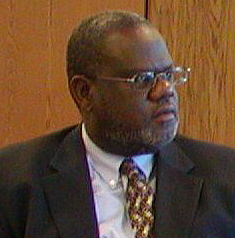 The 15-page letter, which is copied to Gov. John deJongh Jr. as well as U.S. Attorney General Eric S. Holder, talks at length about what Murphy calls the "collateral damage" of the William Clark case, an ATF special agent who shot and killed a Mahogany Run resident in September. It's a case that stirred considerable behind-the-scenes controversy at the highest levels of government and ended the supplemental protection that federal law enforcement officers have historically been ready, willing and honor-bound to provide to local cases outside federal jurisdiction.
The case has also reportedly prompted impending legislation intended to heal rifts and restore federal agent willingness to assist an understaffed local police department.
In the Virgin Islands, where the image offered to tourists is what butters the bread, the murder rate is running more than five times the national average. This year, the V.I. has recorded 32 murders to date in a population of just more than 100,000, compared to an average annual rate of 5.9 per 100,000 residents nationwide, according to the FBI's Uniform Crime Report. Murphy estimated in May that if the Virgin Islands murder rate continued, the toll could mount to 69 by year's end, clearly ranking the territory as among the most murder-ridden communities in the world.
While the VIPD declines to reveal how many officers it employs, it is chronically understaffed and has been trying for some time to recruit 150 new officers to blanket the three islands. According to VIPD statistics, only nine of this year's 32 murder cases have seen arrests.
Federal agents and the resources they bring, including such things as weapons, evidence-gathering abilities, or international intelligence sources, have typically been willing to help local police in matters beyond federal purview. Technically, a crime needs to involve drugs, a convicted felon, or have occurred within 1,000 feet of a school, among other criteria, to qualify as a federal case. But backing up local police in the absence of these criteria has been commonplace, until now.
Murderer or Good Samaritan?
It was Sept. 7, a Sunday morning. ATF special agent William Clark left his condo at Mahogany Run, headed for the gym. As with all ATF special agents, Clark is on duty around the clock. And in keeping with federal requirements, he was carrying his gun.
Documents filed in District Court say Clark was approaching his car when he encountered his neighbor, Marguerite Duncan, trying to back her car out of a narrow space. Duncan's boyfriend, Marcus Sukow, was blocking her way, yelling expletives. The couple had just returned from brunch where, court documents say, they had been drinking. Eyewitnesses report that Sukow went to his car, retrieved a 12-inch metal flashlight, the kind security guards use, and slammed it onto Duncan's car.
Duncan asked Clark for a ride, and he obliged. When Sukow yelled at Duncan to get out, Clark reportedly told Sukow, "Marcus, buddy, go inside."
While eyewitness accounts differ about the moments leading up to the shooting death of 44-year-old Marcus Sukow, what happened next drove a wedge between federal agents and local police that some fear leaves Virgin Islands residents more vulnerable to violent crime.
One version of events, according to court documents filed in March, says witnesses observed Sukow striking Clark's door with a flashlight and Clark drawing his weapon and firing it "while Mr. Sukow stood there with his hands at his side."
But another eyewitness, whose statement was only entered into the record last week, claims when Duncan did not exit Clarke 's vehicle, "Sukow then turned towards Special Agent Clark's vehicle, swinging the flashlight in (a) chopping manner, (and) charged at the vehicle. His face was red and he was spouting profanities. I could see the driver's side door was ajar."
While no one disputes that Clark shot Sukow, at issue is whether Clark was acting in his capacity under the federal Good Samaritan Statute, allowing officers to intervene in situations where physical injury is imminent or occurring; or was he, as the V.I. Attorney General's office argues, acting as a private citizen, using excessive force.
Chilling effect
In a hearing before District Court Chief Judge Curtis V. Gomez in April, prosecutors argued that Clark had no business intervening in a domestic violence situation and crossed the legal line when he fired his gun. "There were a multitude of things he could have done but he chose the worst option as an agent," the file states.
The prosecution was arguing to keep the case in territorial, or Superior Court, which would deny Clark his ability to claim he was acting as a federal law enforcement officer.
The defense argued that a federal agent is duty-bound "under color of office," meaning acting by reason of position, to respond to a threatening situation, and must therefore be tried in federal court. An officer cannot be expected to sacrifice life-and-death moments to assess a provocation, the defense asserts, but must instead determine that a situation is urgent, and if so, lend assistance as a law enforcement officer.
Following the April hearing, Gomez ruled against transferring the case to federal, or District Court, apparently siding with the prosecution that what provoked the shooting matters. However, when Gomez issued the ruling he did not have the latest eyewitness testimony before him that described Sukow as a charging, profanity-spouting, weapon-wielding man. Apparently, the police did not provide it – or so the witness claims at the end of her statement.
"I was interviewed by the Virgin Islands Police Department about my observations of the shooting incident, but the officers did not document my statement," the document states.
While it's up to a jury to decide which eyewitness testimony prevails, the reported absence of the recently submitted eyewitness account during the judge's decision-making process suggests an oversight at best, or a vendetta at worst.
Murphy suggests the possibility of the latter.
"I have also heard from both federal agents and a VIPD officer," Murphy states, "that they believe the prosecution of Agent Clark is 'pay-back' for an earlier ATF prosecution of a VIPD officer."
Clark's attorneys are once again asking Gomez for a transfer to District Court. When he will rule is uncertain.
What is certain is that this jurisdictional battle in the Clark case, according to the V.I. Attorney General, resulted in "…a storm of resistance…from federal law enforcement agencies." That statement comes from a letter V.I. Attorney General Frazer sent to Murphy, also obtained by the Source, which prompted Murphy's lengthy response one week later.
While the January arrest of Clark, based on a warrant issued by Superior rather than District Court, clearly disturbed the ATF, they had reportedly already pulled their four agents out of the territory in the wake of what unfolded soon after the shooting.
The ATF's "shooting team" was excluded from observing and/or participating in the investigation of Clark's action during the shooting, as would be standard procedure, and a "fist fight" nearly broke out between the police and the feds, according to Murphy. The Major Crimes Unit, Murphy said, was "so unprofessional."
Murphy said he and Frazer had agreed "…that the exclusion of the ATF shooting team was a major contributor to the issues of complete mistrust that arose between the ATF and the VIPD and resulted in the ATF withdrawing all of its agents from the Virgin Islands."
Pervasive mistrust
The evening of March 10 and the morning of the 11th were busy ones for the VIPD. Shots rang out around 11 p.m. in Estate Contant, leaving two people injured, but not fatally. Less than 12 hours later, just down the hill in the Kirwan Terrace housing community, 16-year-old Kahlif Leader was shot and killed and another person badly wounded.
VIPD responded. But when it came time to gather statements, they hit a wall.
"There were witnesses to the murder who flat out refused to talk to any member of the Virgin Islands Police Department because the witnesses did not trust the Virgin Islands Police Department," Murphy said in his letter.
The Kirwan Terrace and Sukow shooting investigations suggest two sides of the same problem — residents' lack of faith in the police department. In Kirwan Terrace, the residents wouldn't talk to the police. At Mahogany Run, a woman said she did talk to police, but claims she never saw her statement documented, until last week when it was entered by the defense attorneys.
Ironically, the Kirwan Terrace murder started as an example of federal agents assisting local investigators in a strictly local matter — but it ultimately undermined the relationship between the attorney general and the acting U.S. attorney.
In his letter to Murphy, Frazer was furious the feds eventually withdrew from the case. His letter outlines assorted efforts both sides made to cooperate on the investigation. "Having done all this," Frazer wrote, "I am now appalled that you send us a letter withdrawing the federal assistance from the case. I consider this to be disingenuous."
It was not disingenuous, according to Murphy. It was prompted by the William Clark case and by concerns about federal agents joining in local cases, "…since to do so would place them and their agency in jeopardy of being treated by the VIPD and your office as no more than 'private citizens' should something happen during their assistance."
The mistrust at all levels and the frustration it has spawned are evident again when Frazer references a recent federal consent decree handed down in April. The decree gives the VIPD five years to remedy use of excessive force, among other things, or suffer federally imposed consequences.
"It is ironic," wrote Frazer, "for the U.S. Department of Justice enforcement agencies to become upset to the point of refusing to assist local law enforcement, when U.S. Department of Justice has filed an action against the V.I. Government Police Department for what you believe is a pattern of misuse of deadly force." Regarding the Clark shooting, Frazer adds, "You cannot expect me to overlook an obvious double standard."
Part of Frazer's frustration stems from the acting U.S. attorney's unwillingness to insert federal officers into local cases when invited, as they were in the Kirwan Terrace case, and as they have been for years. Frazer claimed that when he invites the help of the feds, it automatically confers protection or so-called Peace Officer Status (POS) on the federal agents.
Murphy responded by saying, in essence, show me the statute that allows the territory to arbitrarily confer that protection.
If there's no statute, the feds ask how they can be sure that local authorities won't take action against them as private citizens if something goes awry in a case, despite being "invited" to participate. At present, the V.I. does not have POS for federal agents, which is legislation used in many states enabling federal agents to enforce not just federal, but state code.
Talk to law enforcement people, and they will tell you that trust begins with relationships. When federal agents first started arriving in the territory some 20 years ago – there was one FBI agent on island in 1987, and no ATF or DEA, according to former U.S. Attorney David Nissman – all major crimes were prosecuted in federal court. That meant that the local and federal agents had the same "destination" and set of rules guiding them in their investigations. They worked together.
Since the establishment of a territorial, or Superior Court, however, different rules govern the handling of different crimes, and no longer are the feds and local agents necessarily thrown into the same pot. Different guidelines, compounded by a greater federal presence, mean local and federal officers are responding to potentially horrendous scenes, working with people they may never have met who may have different objectives. In addition, many federal agents are not from the Virgin Islands.
"I think the community is very welcoming," said Nissman. "But if you're a federal agent enforcing federal laws and arresting local people, sometimes there's a backlash to federal enforcement efforts."
On the record
The Source attempted repeatedly and unsuccessfully to get comment from ATF headquarters in Washington, D.C., as well as the FBI and the DEA. The VIPD would not officially comment on the suggestion that the prosecution of Clark was "payback," or on the confrontation between the ATF and the Major Crimes Unit in the Clarke investigation.
One police source, who declined to be identified, said of the witness's claim that police didn't document her statement, "That's her perception. There's no way that the VIPD is going to interview a witness and not document her statement."
The VIPD directed all inquiries to the V.I. attorney general, who spoke with the Source last week but did not return a call Tuesday.
James McCall, former V.I. police commissioner and now an investigator in the Attorney General's office, defended the Major Crimes Unit against charges of unprofessionalism. He said the unit is under enormous pressure.
"Major Crimes is a small unit," McCall said. "And I think they became overwhelmed with the number of murders occurring in the territory – under a lot of stress."
As for the lack of faith on the part of many local residents in the VIPD, McCall said it's something he was aware of and worked hard to remedy. Police public information officer Melody Rames ticked off a list of police initiatives to improve relations, including an 85 percent increase in public communications over the last three years as well as community service training, which she said about three-quarters of all officers have completed to date. But, Rames said, "All of this happens over time."
Residents at risk?
With the deadlock between federal and local brass, the withdrawal of the ATF, and federal agents sticking mainly to their own cases, are Virgin Islanders at greater risk?
More law enforcement presence trumps less, according to the Federal Law Enforcement Officers Association (FLEOA). "Generally speaking the more dogs in the fight wearing badges the better," said John Adler, president of FLEO, which calls itself the largest non-partisan, non-profit professional association in the country dedicated exclusively to representing federal law enforcement officers.
For the last six months, FLEOA has been closely following the William Clark case, Adler said. "It seems like some tragic legal nuance has caused, certainly I would say, the local component to loose sight of what the main objective is – public safety."
Former U.S. Attorney Nissman agreed.
"I am horribly disappointed, and I think it really puts us at risk," he said, regarding the strain between local and federal law enforcement. "I would advise people within the two governments to collectively work on this because it's too important to this community to let the disagreements in the treatment of a case, to cause a breakdown in these important relationships that took years to forge."
Attorney General Frazer, in an interview last week, argued that the public remains well-protected.
"I don't want to give the impression that there is a risk in us providing security for the members of this community," Frazer said. "I believe we have been able to put our duties and the security of our community above whatever differences of opinion we have. We have continued to do the work."
On that, Frazer and Murphy agreed. Murphy also spoke to the Source last week, pointing to at least one positive outcome of the conflict. Apparently, the two sides have been hammering out what will be tantamount to Peace Officer Protection for federal agents in the Virgin Islands.
"The V.I. Attorney General has sent me a version of such a statute," Murphy said. "I've reviewed it with all the federal agencies. We've sent back our views on it, and I know the governor has expressed that he is behind it. Once it gets to the Legislature, it will have the V.I. AG's and the governor's support."
While Government House declined to answer questions about the confidential letters, the governor's spokesman, Jean P. Greaux, Jr. issued the following statement Tuesday.
"We see what has developed as unfortunate and we are working to resolve the issues through legislation."