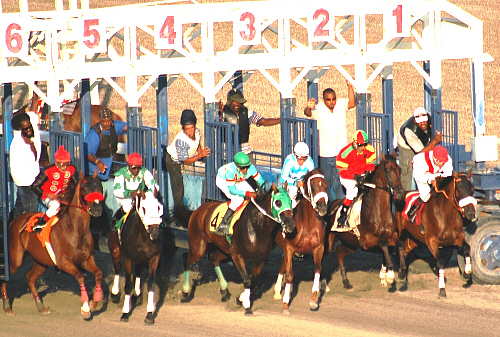 TRAXCO has outdone itself as it continues to bring bigger and better horse racing to St. Croix. On Sunday, the annual Fourth of July race card will feature an almost unheard-of 11 races that will feature some 67 thoroughbreds, including 11 from St. Thomas.
There will also be 11 horses making their debut on the Virgin Islands' big track.
Among the races, the Emancipation Stakes has to stand out as the must-see race. Five of the Virgin Islands top steeds, all carrying 119 pounds, will battle for the day's biggest purse of $8,500 over a distance of 1-1/16 miles. Gallant Ruler from St. Thomas will probably go off as an early favorite simply because he was the 2008 horse of the year in Puerto Rico.
But the race is not won on paper, and there are four other classy horses with a good shot at making it to the winner's circle. Dashing Pirate, also of St. Thomas, has shown he has the talent to compete with and beat the best in the territory. Soul Spirit came highly touted from the mainland but after two races has yet to show his supposed class. Maybe Sunday will be his coming out party.
Fancy Silver will make his anticipated debut from Sharky's camp, and Little Boy Brew is another highly thought-of horse joining Soul Spirit and the aforementioned Little Boy Brew in trying to take top honors for St. Croix against the two St. Thomas invaders.
Another race that should have fans on the edge of their seats will be The Queen Agnes Stakes for the territory's top mares and fillies, run over a distance of one mile for a purse of $5,100. In this one, six St. Croix horses will go up against probably the best mare in the Virgin Islands, Bold Cleo (119). She has only lost one race against her gender in the territory and that was an upset win by Look Up Look Up (114), who will be trying to repeat that feat on Sunday.
Many race fans, however, believes that Beautifly (118) and Her Baby Blues (117) could be the ones giving the V.I.'s top mare her biggest challenge. Destiny's Arrival (115) and Qualifying Asset (114) are coming from barns that will be looking to pull off a shocker.
The rest of the day's card:
Race 1 Class H 4 ½ F $1500
1. Juanito 116
2. Empress Fortune (Debut) 115
3. Mr. Vegas 116
4. Emerald Princess 115
5. Motorola 114
6. Sativa 114
Race 2 Lady Classic 6F $4000
1. Fantasia 117
2. Dana's Express 117
3. True Confession 114
4. War 117
5. Bottom Belly 115
Race 3 Bottom Bell. Class. M/F 5F $4000
1. Eternal Mark 114
2. Beautiful Move 116
3. YMC Sword 114
4. Summertime Babe (STT) 118
5. Fantasy League 118
6. Big Kate 116
3. Qualifying Asset 115
Race 4 Fire Burn Classic 5F $4200
1. CollegeVille Kid (Debut) 118
2. Unbridled Legend 118
3. Cuyuni Waters (STT) 118
4. Seczone (Debut) 118
3. Get Ready Now 117
6. Falcon's Peak 118
Race 5 Class I-5 & I-6 7 ½ F $3800
1. Perfect Count 114
2. Leggy blonde 114
4. Fantastic Four 114
3. All the King Gems 117
6. Big Thunder Reflec 117
7. Cat Hunter 117
8. Bright moonlight 115
A/E Tulsa Boy 117
Race 6 Class I-2 & I-3 7 ½ F $4100
1. Puerto Rican Emblem 118
2. Charlie Cho (Stt) 118
3. Guiltless 115
4. Prayerful (Stt) 115
5. Marco Light (Stt)(Debut) 115
Race 8 Budhoe Classic 7 ½ F $4900
1. Al-Abjar 117
2. Emerald Star 119
3. Gold Sizzler (debut) 114
4. Express To Cali 115
5. Prince Crystal 117
6. Creation Rebel 114
Race 9 Indepen. Day Class. 1M $5600
1. Man the torpedoes (Stt) 118
2. Magic Alphabet(Stt)(Debut) 118
3. Lost River 115
4. Limey (Debut) 118
5. Formally Cat 118
6. Nothingbutthetruth (Stt) 114
Race 11 Class I-4 & I-5 7 ½ F $4000
1. Zirito 117
2. Mi Jesuse 117
3. Thunder Duncan (Debut) 117
4. Honor the Queen 114
5. Back To Win 117
6. Lobito 117
7. Heats on Fire 114