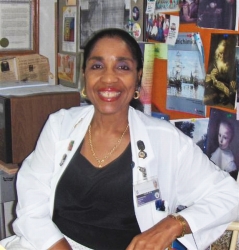 The tiny office of Lillia King, supervisor of histopathology at the Schneider Regional Medical Center, is an enclosure bearing the accumulation of 42 years of service — walls covered with diplomas, degrees, honors and art work, a desk laden with papers.
What catches the eye, however, are two items still in use: an enamel examining stool and chair, ca. 1950.
"I brought those from the Knud Hansen Hospital when we moved here in 1982," King says. "They were used by Dr. John Moorhead and the pathology staff. They are a special memory. I cherish them."
Moorhead, who died last year at 102, was a lifelong family friend, hero and mentor to King.
"His son, Justin, and I were classmates," she says. "He was a wonderful clinician. No matter what, he was never too busy to answer questions."
The territory's first first daughter, raised in the wake of her famous parents — the late Gov. Cyril E. King, the territory's second elected governor for whom the airport is named, and Agnes Schuster King — says she was brought up never to think she was "special."
"A child is always special to their parents," King says, "but Mommy and Daddy raised me like any other child. You still make your bed, you wash, you behave like a lady. I had an allowance, and I learned money management early on."
As a youngster in Washington, D.C., King was exposed to political and cultural figures on a personal level.
"We never knew who would be at the dinner table," King reflects. "At any given time, someone from any part of the world would drop in. It was always exciting."
Minnesota Senator Hubert Humphrey, on whose staff Cyril King worked for more than a decade, "was in and out of the house all the time," she says.
King went to grammar school in Washington until 1961, when the family moved back to St. Thomas after Cyril King was appointed by President John F. Kennedy to the post of government secretary.
After graduation with honors from Sts. Peter and Paul Catholic High School in 1966, King knew what she wanted to do.
"I wanted to do something where I could give back," she says. "Mommy guided me; she was the consummate humanitarian. When I told her I planned a career in health, she marched me right over to Knud Hansen Hospital, where I was hired as a summer lab intern."
The field drew her in right away.
"Health care is a fascinating field; there's so much to capture your interest," King says. "Someone comes into the hospital who is sick and you help in some small way to make them feel better. There are simply no words to explain the feeling."
She completed her undergraduate studies with a bachelor's degree in biology from the College of St. Elizabeth, in Morristown, N.J., in 1970. She later earned master's level credits in hospital administration from the California College of Science.
King is a tall, attractive woman with a ready and gracious smile; she is the picture of poise. She appears to rule her small staff of six ("no secretary") with a velvet glove. She balances frequent interruptions: speaking with a bereaved relative on the phone with compassion, taking time to answer all the questions — a trait she admired in Dr. Moorhead.
She is quick to express her admiration for Dr. Francisco Landron, the territory's only medical examiner, with whom she works closely.
"He does a gargantuan job," she says. "He works tirelessly."
King operates by the book. She set aside a specific block of time for her interview with the Source.
"I punched out for half an hour," she says.
That strict discipline came to her aid in April 1976 when American Airlines Flight 625 from New York crash landed on St. Thomas.
"It was just my lab assistant Victor Claxton and me," she says. "There were 37 fatalities. We were up three days, no sleep, before American sent a disaster crew, and the FBI forensic specialists arrived."
The pain still shows in King's face as she recalls the experience.
"When we counted the bodies, we were missing a baby, and Claxton had to go back and look for the infant, the child of a classmate, who'd died. He found the baby, thrown clear, but not alive."
King says the only relief came "when Mommy arrived with the biggest pot of chicken soup you've ever seen."
The memory of both parents lives in King's heart and actions today.
Agnes King was a forerunner of the today's green movement. Her efforts toward the preservation and beautification of the island were recognized at a 2006 ceremony for the garden she had created from an overgrown lot into a thing of beauty."
Lillia King has followed her parents' role in public service. Her awards include a Special Congressional Recognition from Delegate Donna M. Christensen and, most recently, the St. Thomas-St. John Hotel Association and Chamber of Commerce 2005 Public Service award.
In April she hosted a luncheon to raise funds for a museum for her parents' memorabilia. King died from cancer in 1978 while still in office. The University of the Virgin Islands will house the museum.
"It was such a success," King says with a smile. "I'm still sending thank-you notes."