The V.I. Police Department on Friday arrested Brian E. Steele and charged him with third-degree assault after an incident in a Charlotte Amalie sports bar in which the bar owner said he was threatened with a machete and handsaw and shot the suspect.
Police were dispatched Thursday morning to the Schneider Regional Medical Center about a person who had been declared dead on arrival. The deceased was an unresponsive white male who was later identified by his wife as 44-year-old Jeremy Alan Kelly.
Shakieme S. Freeman, 24, of St. Thomas, was arraigned Tuesday before U.S. Magistrate Judge Ruth Miller on a criminal complaint charging him with being a felon in possession of a firearm.
The V.I. Police Department on Friday announced the arrest of three women in unrelated cases on St. Thomas. The police reports did not provide details about the incidents.
The U.S. Virgin Islands commissioned 17 federal law enforcement officers as Virgin Islands Peace Officers after the officers completed an orientation on Virgin Islands history and culture.
Juan DeDios, the 17-year-old suspect who died during the shootout with police March 25 at the McDonald's restaurant in Lockhart Garden, died of a self-inflicted gunshot wound, the V.I. Police Department reported Monday.
One young man was killed and another injured when shooting broke out during a fight early Sunday in Sub Base, the V.I. Police Department reported. The victim was identified by family members as 18-year-old Akil Grieg Jr.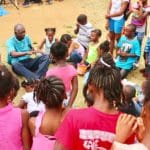 A family cookout held Monday at Joseph Gomez Elementary school gave residents in the area the chance to come out and meet their Virgin Islands Police Department officers.
A man was found shot to death early Monday in the area of Estate Bolongo, the V.I. Police Department reported. According to police, the victim was 41-year-old Niyen Jamil.
Nine federal law enforcement officers received commissions as Virgin Islands Peace Officers Monday after attending an orientation on V.I. history and culture at the Police Training Academy on St. Thomas, Attorney General Claude Earl Walker announced.