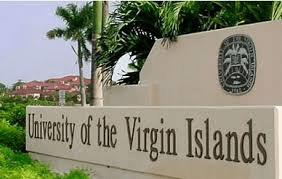 With summer just around the corner, the University of the Virgin Islands (UVI) is offering a variety of educational programs to keep students of all ages actively learning and expanding their skills throughout the summer. From youth summer camps to college prep courses — Science-Technology-Engineering-Mathematics (STEM) programs online and at on-campus classes — there are many ways for students to get ahead this summer at UVI.
"The summer months are a great time for our students to catch up on coursework, try something new, and get a head start on the next school year," said Pamela Moolenaar-Wirsiy, Ph.D., dean of innovation and student success and interim vice provost of enrollment management. "For those new to UVI, the summertime is the perfect opportunity to get a taste of the high-quality educational programs that UVI has to offer. Join a summer camp, take an on-campus class, register for an online course and explore what it's like to attend UVI."
Summer Sessions
For current UVI students, students coming home for the summer from other colleges/universities, or those wishing to start classes before the fall, it is not too late to sign up for the second summer session, June 22 to July 28. The deadline to enroll is June 22.
For questions about registration, email registrar@uvi.edu  or call 693-1151.
UVI Online Degree Programs
For working adults and those who cannot attend classes on campus, UVI offers an online option with six programs currently available including associate, bachelor and master degrees. Areas of study include business management, accounting and criminal justice. Courses are 100 percent online and taught by experienced UVI faculty members. Designed for flexibility, the courses are eight weeks long with multiple start dates throughout the year. The remaining start dates for 2023 are July 26 and Sept. 27. Visit online@uvi.edu for details.
Summer Programs and Camps
This summer UVI is offering several summer programs for children as young as six up to high schoolers.
University Bound
Current high school students who have completed eighth grade or higher and are interested in attending college, are invited to apply for the University Bound summer residential program that prepares students for the expectations of college and life on campus. Activities include academic instruction, tutoring, college admissions counseling, recreational activities, and an opportunity to live on campus during the summer. The program is ideal for students who have academic ability but who may not have the preparation, motivation or opportunity to realize or demonstrate their full potential.
For more information, contact Rhymer-Rohan at 693-1133 or rrohan@uvi.edu.
Inclusive Childcare Lab and Diagnostic Center
Children ages 6-8 are invited to join the Inclusive Childcare Lab and Diagnostic Center's annual STEM/sports summer camp on St. Thomas. Campers will engage in many fun learning activities from science experiments, arts and crafts, tennis lessons and other active sports.
For more information, contact Sherryl Tonge-George at sherryl.tongegeorge@uvi.edu.
UVI 2023 Mathematics Behind the Data Science (MBDS) Summer Program
Formerly known as the Math Behind the Science Program, this program has successfully helped many students, some of whom are now working for WAPA, Microsoft, aviation companies, STEM businesses and universities. The five-week program runs from May 30 to June 30 on the St. Thomas Campus. Applications are due on May 24.
For more information, visit http://mbs.uvi.edu or contact the program coordinator at esc@uvi.edu.
UVI School of Agriculture Cooperative Extension Service
"Growing Your Best Self – 'YOU, Me, 'All Ah We,'" is a five-week summer program from June 12 to July 14 for enthusiastic learners, ages 10-14, on the Albert A. Sheen Campus Research and Extension Center on St. Croix, and on the Orville E. Kean Campus New House Building on St. Thomas. Campers will participate in gardening, hiking, art projects, career exploration, computer activities, cooking and more.
Camp hours of operation are 8:30 a.m. to 2:30 p.m. Monday through Friday, excluding holidays. Lunch will be provided by the V.I. Department of Education Summer Feeding Program. The registration fee is $250 per child; additional siblings in the immediate family pay $225. Application packages must be picked up and dropped off in the UVI Research and Extension Center, Room 134, on St. Croix or the main office at the UVI CES New House Building on St. Thomas.
Completed applications will only be accepted from Wednesday, May 24 to Tuesday, May 30.
For more information, contact Sarah Dahl-Smith, assistant director, at 692- 4084 or Carol Shoy, extension program supervisor, on St. Thomas at 693-1082.
Youth Moving-Making Workshop
The Reichhold Center for the Arts is hosting its annual filmmaking workshop June 12 to July 29 for students ages 11-14. Through a series of tailored interactive activities, students learn the skills necessary to produce their own videos and digital content. This intense seven-week hands-on training experience is designed to motivate, educate and build practical skills in the field of digital film production culminating in a "Red Carpet Premiere" where students can exhibit their films to the community. The deadline to apply is June 2.
For more information, contact Denise Humphrey at 693-1552 or dhumphr@uvi.edu.
Ocean Explorers Summer Programs
The summer program's annual marine science camps are currently filled to capacity but mark calendars for next year to sign up for these popular summer camps that focus on swimming, snorkeling, water safety, marine plant and animal identification, and scuba diving. Camps are offered both on St. Thomas and St. Croix.
For more information, contact Howard Forbes, director of the VI Marine Advisory Service, at howard.forbes@uvi.edu or visit https://www.uvi.edu/community/virgin-islands-marine-advisory-service/st-thomas/vimas-discovery_week.html.
For more information, visit online@uvi.edu