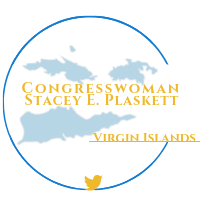 Congresswoman Stacey E. Plaskett released the following statement on the Department of Energy's Home Energy Rebate Programs:
"Recently, the U.S. Department of Energy (DOE) issued a Request for Information (RFI) for new Home Energy Rebate Programs. This program received nearly $9 billion through the Inflation Reduction Act and will help Americans cut energy bills, implement residential energy improvements, attract and retain a workforce, reduce indoor and outdoor air pollution, and lower reliance on fossil fuels.
"Home Energy Rebate Program funds are not yet available as the U.S. Department of Energy is conducting stakeholder outreach, developing program guidance, and hosting listening sessions with key stakeholders. Individuals and organizations interested in submitting comments to the USDOE may do so by clicking here.
"Later this year, DOE will make funds available to State Energy Offices, including the Virgin Islands Energy Office (VIEO) for the Home Energy Rebate Programs. This funding will be used to develop, implement and subsidize residential energy efficiency and electrification projects in U.S. households.
"It will provide rebates to households, contractors and others; dedicate a portion of funds for low- and moderate-income households; streamline rebate processing for households, and help households bundle funds and financing to reduce upfront costs.
"These programs align with President Biden's Justice40 Initiative, ensuring that 40 percent of the overall benefits of clean energy investments make a difference in communities that are energy burdened and historically underserved. I am extremely pleased with the Biden-Harris Administration's commitment to transition from fossil fuels to clean energy. Through this plan majority-minority communities facing energy insecurity will highly benefit from this historic investment."
For more information, visit the EECBG Program or the Home the Energy Rebate Programs website.
Virgin Islands Congresswoman Stacey E. Plaskett