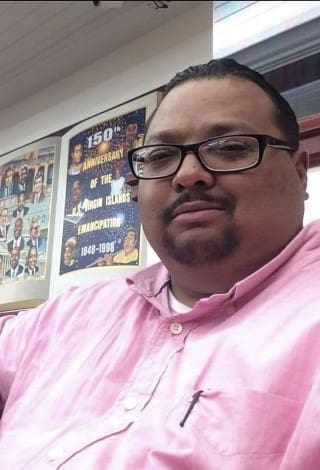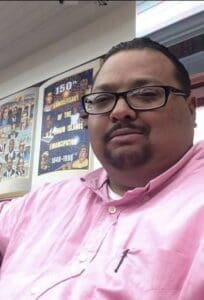 Malcolm Johnson Fabio Jr., also known as "Matt," of Estate Mount Pleasant died on Jan. 13.
He was preceded in death by his mother, Migdalia Fabio; aunt, Ada Monell; uncle, Rodney Fabio Jr.; and special friend, Trooper.
He is survived by his spouse, Pearl C. Parrilla; father, Malcolm Johnson Fabio Sr.; daughter, Nia Dalia Fabio; stepdaughter, Ry'Neese A. James; brothers: Monell Fabio, Marcos Fabio and Mark Fabio; nieces: Sonia Fabio and Evelyn Fabio; nephew, Ashwin Fabio; aunts: Carmen Lopez, Jeanette Fabio, Laura Fabio and Denesia Fabio; uncles: Stanford Fabio and Joaquin Monell; and brother-in-law, Pedro C. Parrilla Jr.
He is also survived by sisters-in-law: Manisha Fabio and Lanzi Sinaise-Fabio; and cousins and other relatives: Barbara Sluss, Tariq, Crystal, Michon, RaChelle Fabio, Rodney Fabio III and Everette Fabio, Doris, Melvin and Titoy Monell, Beatris, Marcelena, Carlos, Doris, Luis and Miguel Lopez, and the Fabio and Redmond families.
Other survivors include special friends: Carlos Alloyo, Mike and LaTonya Cipriani, Steve and Don Richards, Javier Ramos and family, Oral and Rachel Stanley, Sidney and Anthony Elskoe, Jeronimo Camacho, Anthony Casey, Robert Matthews, Chris Nipper, Adrian Thompson, Anthony Gonzales, Donald Williams, Mark Compton, Jonathan and Leanne Sluss, Luis Rivera, the Edwards, King and Weeks families, Shipmates from the U.S. Navy – USS Kalamazoo, Ms. Lewis, Ms. Williams and the staff at V.I. Waste Management Authority; as well as other relatives and cherished friends too numerous to mention.
Special thanks to the JFL Critical Care Unit, as well as Drs. Shores and Freeman.
The viewing will begin at 10 a.m. followed by a funeral service at 11 a.m., Tuesday, Jan. 31, at Lord God of Sabaoth Lutheran Church. Interment will be at Kingshill Cemetery.