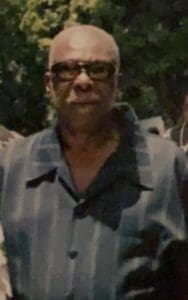 Family and friends are advised of the passing of Robert Harcourt Joseph, better known as "Shirt," "Bully" or Sylvester," of Oswald Harris Court.
He worked at Virgin Islands Water and Power Authority, GEC Construction, Charley's Trucking, Odian Electric, Tom Queley Construction and Peter's Construction. He passed away peacefully on Monday, Dec. 19, 2022, at John Hopkins Hospital in Baltimore, Maryland.
The first viewing will be held from 4-6 p.m., Wednesday, Jan. 11, 2023, at Turnbull's Funeral Home.
The second viewing will be held from 9-9:45 a.m. followed by a funeral service at 10 a.m. on Thursday, Jan. 12, 2023, at Saint Andrew's Episcopal Church. Burial will be in Eastern Cemetery.
He is truly missed by his daughters: Claudette, Jacqueline, Phyllis, Carol and Sandy; sons: Rupert Ferrance, Lesroy Dyer and Jashae "Ron" Joseph; sisters: Melrose Melchoire, Doris Industrious and Lucinda Joseph; and brother, Tyrone Willock.
He is also mourned by a son-in-law, Terry Metcalf; daughter-in-law, Laurel Joseph; sisters-in-law: Yvette, Cavelle and Julianna Joseph, and Mile Peters; brothers-in-law: Stanford, Telbert, Miguel, Cortwright and Byron Joseph; 33 grandchildren; 46 great-grandchildren; one great-great-grandchild; as well as other family and friends too numerous to mention.
Funeral arrangements are by Turnbull's Funeral Home and Crematory Services.