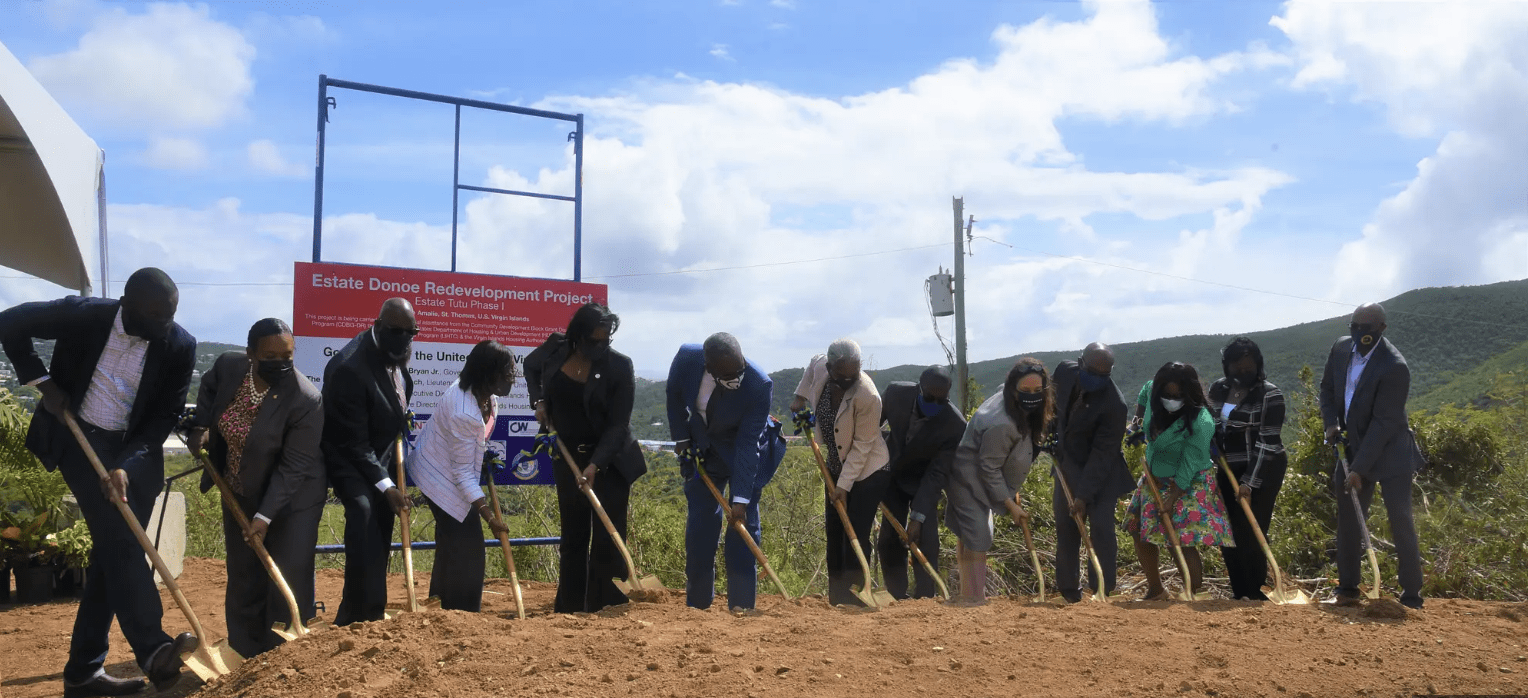 Improper testing of soil around a St. Thomas construction site and its disposal at a municipal landfill has been under scrutiny by the federal government. But a spokesman for the Environmental Protection Agency says while the agency can identify what went wrong at the Donoe Housing Community construction site, there's little they can do about it.
A dispute about the removal of asbestos-contaminated soil from the Donoe site was among the complaints contained in a lawsuit filed by a former Waste Management Authority compliance officer. The presence of asbestos in demolition debris was raised by contractors when U.S. Secretary of Housing and Urban Development Marcia Fudge visited the site in March.  
Former waste management compliance officer Nadine Noorhasan claimed she was fired for arguing that contaminated soil be properly disposed of, among other allegations.  Noorhasan said the dispute ended in a job loss and the transfer of 65 truckloads of contaminated soil to the Bovoni Landfill. In September, her lawsuit was settled out of court for an undisclosed amount.  
But the question of oversight remained unclear: Were agencies charged with protecting the environment paying attention? Were contractors working on a new housing project at Donoe being protected from asbestos contamination?
Oversight of potential pollutants in the Virgin Islands falls on the federal level under EPA Region 2, along with New York, New Jersey, Puerto Rico, and land belonging to eight tribal nations. Region 2 spokesman Stephen McBay responded to questions posed by the Source in December.
"According to the Virgin Islands Department of Planning and Natural Resources, approximately 60 shipments of soil from the Donoe site were sent to the Bovoni Landfill in May 2020. The Virgin Islands is responsible for managing solid waste in the territory and has an EPA-approved program for doing so under Subtitle D of the Resource Conservation and Recovery Act," McBay said.  
It's up to Planning and Natural Resources to approve or disapprove those shipments, the EPA spokesman said. When asked about the soil transfer, Planning and Natural Resources spokesman Jamal Neilsen said it was carried out within the required guidelines.
That's where the two environmental partner agencies differ. EPA determined that the structures built in the 1970s as part of the original Donoe Housing Community contained asbestos and were demolished before the contaminant was removed.
Asbestos is a cancer-causing substance that can lead to cases of mesothelioma for those who are exposed. Federal authorities have strict procedures for its safe removal.  
And, McBay said, determining what hazards may exist at Donoe is further complicated because there was no way to measure how much asbestos is or was on site. 
He added that the wrong testing method was used to detect the contaminant, and there was no prior baseline testing done for comparison. "It's not possible to accurately determine the presence of asbestos fibers in soil using available methods. Therefore, all soil waste at the site must be treated as if it is contaminated," McBay said.
Doing so would have required Waste Management to ship all debris off island to a stateside facility set up to manage contaminated waste, he said.
But the EPA spokesman said his agency cannot compel its local partner to do so or punish them for noncompliance.
Along the potential chain of missteps with the Donoe soil transfer lies the possibility that rainwater runoff might contaminate a Bovoni wetland located downhill from the landfill. Poor waste management practices are cited as a cause for concern by the Maryland-based Center for Watershed Protection. 
"Debris removed from a site can also contain dangerous asbestos if not disposed of properly. Only if a site is examined specifically for asbestos can cleanup workers be assured that none of the mineral is present," according to content found on the group's website, titled "How Asbestos Finds Its Way into Water Sources."
Donoe Housing Community was heavily damaged by the passage of Hurricane Marilyn in 1995. Its tenants were relocated to other public housing and housing-subsidized private homes a few years later. Now, under the V.I. Housing Authority, Donoe is being redeveloped into a townhouse-style residential complex for low-and middle-income families.