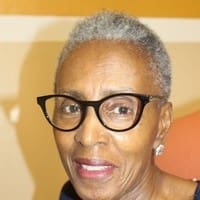 Bernice Ritter Turnbull has died.
She is survived by her husband, Angel "Juanie" Turnbull; children: Toni, Angel "Juanie" Jr., Derek and Cara; grandchildren: Aneas, Zuri and Ayden Turnbull, and  Sara Carson; brother, Rhudel George; and cousins: Joyce Peterson, Cynthia Faulkner, Ashley Ritter, Helen George-Newton, Andromeda Anderson, Muriel George and Rehulita Chinnery.
She is also survived by nieces and nephews: Julio Francis III, Ruth Francis-Abramsen, Julian Francis, Juan Francis, Jaime Francis, Raquel Francis-Callwood, Diane George, Simile George and Sionne George; daughter-in-law, Shanee Turnbull; and sisters-in-law: Lorna Turnbull Jackson, Lucia Turnbull Baptiste, Sheryl Turnbull, Marilyn Turnbull David, Bernice Sarauw-Turnbull and Lucia Cid-George.
Other survivors include brother-in-law, Mario "Piggy" Turnbull; special family: Verne David Jr., Marú David, Clayton Jackson, Courtney Jackson, Charlene Jackson, Craig Jackson, Sheldon Turnbull, Mario Turnbull Jr., Carla Ritter and Colleen Ritter; special friends: Shirley Proctor, Cecile Foy, Hyacinth Manners, Diana Hendrington, Edwita "Tin Tin" Hart, Janet Harrigan, Yvette Industrious and Cassie Dalmida.
Relatives and friends are respectfully invited to attend the first viewing from 4-6 p.m., Friday, Jan. 13, 2023, at the Chapel of Turnbull's Funeral Home and Crematory Services. The homegoing service will be held on Saturday, Jan. 14, at Christ Church Methodist at the Market Square. A viewing will begin at 9 a.m. with the funeral service immediately following at 10 a.m. The interment will be at Western Cemetery No. 1.
Professional funeral services are entrusted to Turnbull's Funeral Home and Crematory Services.