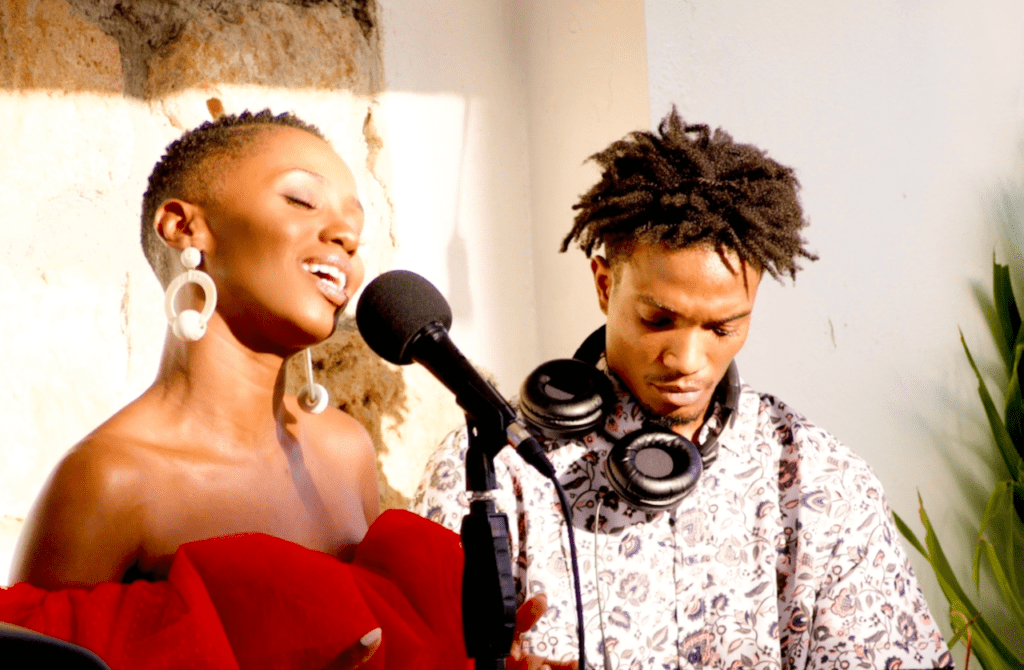 Experience an evening of soulful music by the island's chanteuse at the Frederick D. Dorsch Theater in downtown Frederiksted. Doors open Thursday at 6 p.m., with the show from 6:30 to 8:30 p.m. Sounds by DJ Shack and a cash bar are provided by Cibone Restaurant.
Tickets can be purchased for $20 online at Eventbrite and at UCA Vegan Restaurant adjacent to Buddhoe Park, open Wednesday and Thursday, noon to 5 p.m. Tickets at the door are $30.
Musical siblings Deri and Derrick [DJ Shack] have taken St. Croix by storm since they arrived on the big island in October 2020. Deri migrated from New York and Derrick from their home in New Orleans, accompanied by their mother with the intention to leave the pandemic behind them and spend time with their St. Croix family.
"Our first gig was at Cibone Restaurant in Frederiksted, and we have continued to perform regularly at public venues and private parties. We are so thankful to the St. Croix community for embracing us, being receptive to us, and continuing to support our purpose to share our God-given talents with them," Deri said.
The brother and sister team came together musically after their arrival on St. Croix.
Each has their own thriving career. Deri has performed as an actress and a dancer, although she sang from the early age of eight or nine in elementary school and on through high school and later in college. "I grew up around church singers, but I'm more of a crooner," she said.
DJ Shack has been developing and performing his talent since he was eight years old. He has performed in Africa, at the Essence Music Festival, the Jazz and Heritage Festival, at many other venues and with many other musicians.
When friends back home in New Orleans queried her about singing on St. Croix, she didn't even know what that would look like, she said. There was a pandemic. It wasn't safe to have a band. Most places were cutting costs, so there wouldn't be enough income for everyone to get paid. The siblings put their heads together and in the midst of the pandemic, they made it work.
Derrick has a great ear, Deri said. "We work very well together. Our collaboration is very intentional. If the lyrics aren't positive, we agree not to use the song. It's a team effort. We realized there was a void here and we could offer R&B, soul, jazz, pop, hip-hop and reggae," she said.
Tragedy struck their family when the siblings' father was murdered. They were very young. "Our father was very talented and was one of the first rap groups, '39 Posse.'"
They had their own record label. "My brother and I are paying homage to our father when we perform. We want to live on in our performances in his memory," Deri said.
Deri was a professional cheerleader for the New Orleans Saints for five years. "My rookie year was when the Saints went to the Super Bowl. One team from the NFL was selected every year to go to Hawaii, and I went one year. I was hired as one of 100 local New Orleans dancers to perform 'Single Ladies' with Beyonce for the Super Bowl. I've studied Beyonce since I was a kid, so it was such an honor to be in her presence and perform with her."
The devastation of Hurricane Katrina sent the siblings and their family migrating all over to Mississippi, Minnesota, and Texas. During this time, Deri traveled to New Orleans to visit with her friend who was auditioning for Deena Jones in the high school musical, "Dreamgirls." Although it was not her intention to audition, Deri was spotted and was asked to sing, which she did, and she was recruited for the part in "Dreamgirls."
BET picked up their stories as a reality show, "One Night Only," in 2006-2007 and partnered it as a promo for the movie, "Dreamgirls." "The bug bit me, and I wanted to do Broadway after that," Deri said.
Deri was awarded a full scholarship to Dillard University from the Denzel and Pauletta Washington Scholarship for students in New Orleans affected by Hurricane Katrina. The actor and his wife donated millions of dollars to Dillard, giving students a free ride for four years. Deri majored in mass communications/recording art with a minor in theater.
After college, she did substitute teaching and worked as a dance coach in elementary schools for two to three years. Deri saved $5,000 and moved to New York. She was in the "Dreamgirls" all-black cast Korean tour and lived in Seoul, South Korea for four months. Later, she was cast as Mimi Marquez in RENT and toured the U.S. and Asia.
"Ain't Too Proud" is the Temptations musical that Deri toured with in 2022, portraying Diana Ross to raving reviews.
"A Night at the Dorsch Theater" will be Deri's last public performance. She has plans to move to Atlanta to record and explore film opportunities that are not available on St. Croix. Deri will be back during the Crucian Festival season to perform at private gigs.
She will be back and forth between Atlanta and St. Croix, performing on the big island when possible.
"Our gifts have been so well received here. Although folks didn't know us, they opened up to me and Derrick and embraced us," said Deri. "Our grandparents live here so I will always be back visiting. I feel so connected to St. Croix. This is where I got my start as a singer. I sang in a chorus and a choir growing up and learned to sight read with technical training with a choir director, learned to emote and connect with the song. I was part of a singing group, 'Aprique' and worked with vocal coaches. But this is where my career as a soloist took off — right here on St. Croix and I am forever grateful."
For more information and for tickets:
eventbrite.com — A Night At The Theater with Deri
UCA — 340-772-5063
Dorsch Theater — 340-773-3075