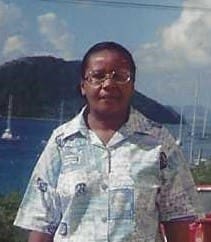 Yvonne M. Horton of Estate Peter's Rest died on Sept. 25. She was 74 years old.
She was preceded in death by her mother, Isabel Petersen Horton Mack Hall; father, John Thomas Horton; and brother, Wayne A. Horton.
She is survived by her daughter, Monique Horton-Jackson; grandchildren: Lamaya Jackson and Nijah Jackson; sisters: Sharon Horton and Valerie Horton; brothers: Charles T. Horton, Elroy Horton, John T. Horton Jr. and Edwin E. Horton; adopted sisters: Beverly Rivan and Bernice Baptiste; aunt, Ina Petersen Sylvester; special friends: Audrey Schuster, Mrs. Coreen, Priscilla Peters, Ethlyn Peters and Evadney Sprull; as well as other relatives and friends too numerous to mention.
A viewing will take place at 10 a.m. followed by a funeral service at 10:30 a.m., Monday, Oct. 17, at Holy Cross Catholic Church, Christiansted. Interment will be at Kingshill Cemetery.