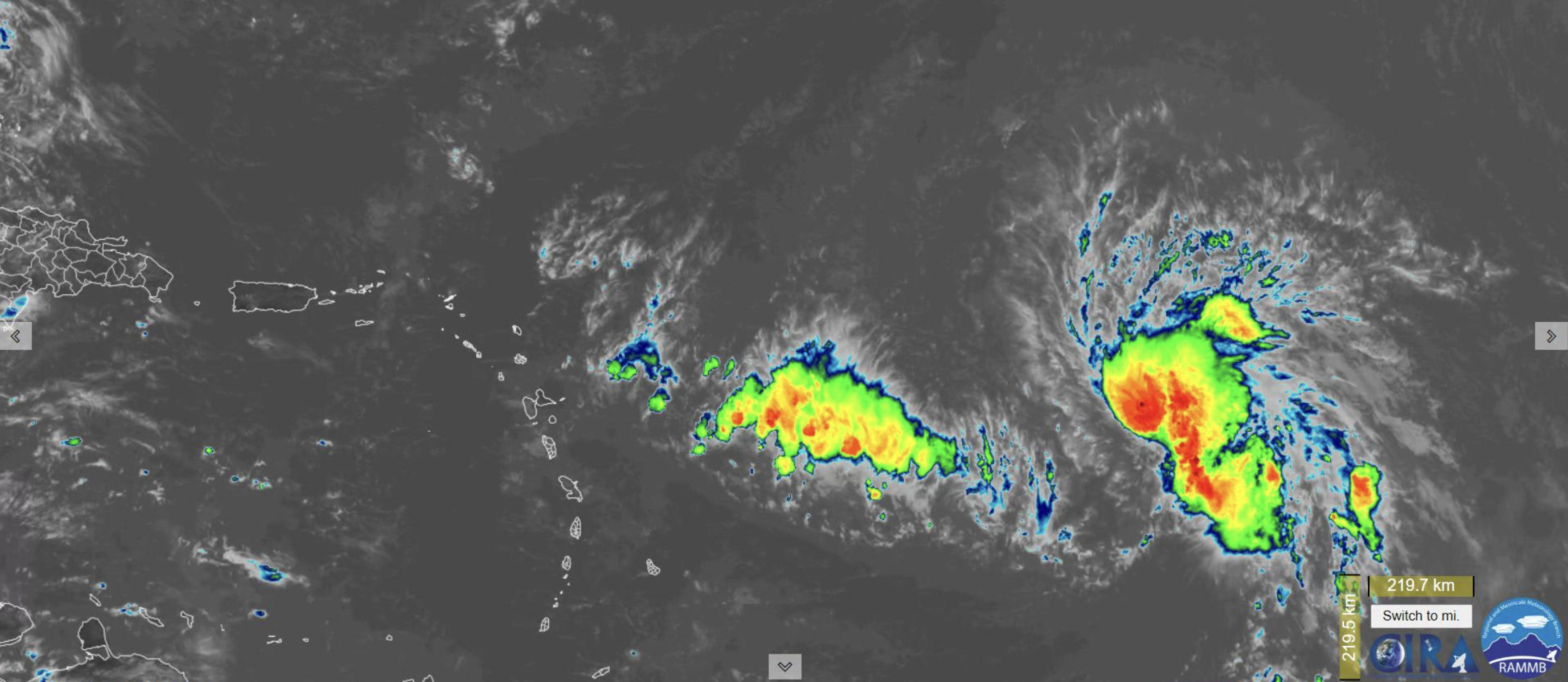 A tropical depression that could become Tropical Storm Fiona as early as Wednesday night will begin to impact the U.S. Virgin Islands starting Friday, dumping two to four inches of rain and bringing high winds to the territory before it moves away from the region on Monday, officials with the National Weather Service in San Juan, Puerto Rico, said Wednesday.
Unlike Tropical Storm Earl, which passed some 150 nautical miles north of St. Thomas over the Labor Day weekend, Tropical Depression 7 is on a westerly track and the center is expected to pass closest to St. Croix, said Ernesto Morales, warning coordination meteorologist in the NWS San Juan office.
However, the moisture field is large and will affect the northern Virgin Islands as well, said Morales, speaking at a webinar to brief emergency management officials and the media.
The depression could develop into a tropical storm Wednesday night or Thursday, according to the National Hurricane Center.
"We are still looking at the rainfall as the main threat of this Tropical Depression 7, although the wind could be a secondary impact or risk because the forecast is to intensify into a tropical storm" with winds of about 45 miles per hour when it is closer to our islands, said meteorologist Anthony Yrimia.
"The high confidence is that this is a rainmaker," said Yrimia. "We are expecting a lot of rain with this system, not only on Saturday when it's the closest approach. It will affect us starting Friday night through Sunday," with bands of rain continuing into Tuesday.
Additionally, a tropical wave will precede Tropical Depression 7, bringing rain to the area on Thursday night into Friday, according to the NWS San Juan office.
Coming after a prolonged drought that has affected the USVI and Puerto Rico, landslides are a concern, said Morales. "This is a major issue. After a big drought event, we have landslides, especially on the high slopes in the islands. It's not a major hazard, but it's an associated hazard. It always happens," he said. The upside is that it will help the drought situation, he said. "At least we are going to have some rain to recharge our water."
People also should be aware that tornadoes can occur with tropical cyclones, said Morales.
"Always with this type of system on the front right quadrant, the first bands that come into the islands, we always get some waterspouts or some tornadoes. … That is one of the major hazards associated with tropical cyclones. … We have to watch out for those," said Morales.
He reminded people to prepare accordingly for the rain, and to stay tuned to official sources for updates.
"We ask you not to follow unofficial websites. There's a lot of people on Facebook and social media that they think they are meteorologists," said Morales.