St. Croix has "barely enough water each day" due to the continuing influx of sargassum, Daryl Jaschen, director of the V.I. Territorial Emergency Management Agency, said at the Government House media briefing Monday. At the same time, Dr. Esther Ellis discussed suspected cases of monkeypox, and Gov. Albert Bryan Jr. announced $40 million for government workers in retroactive pay.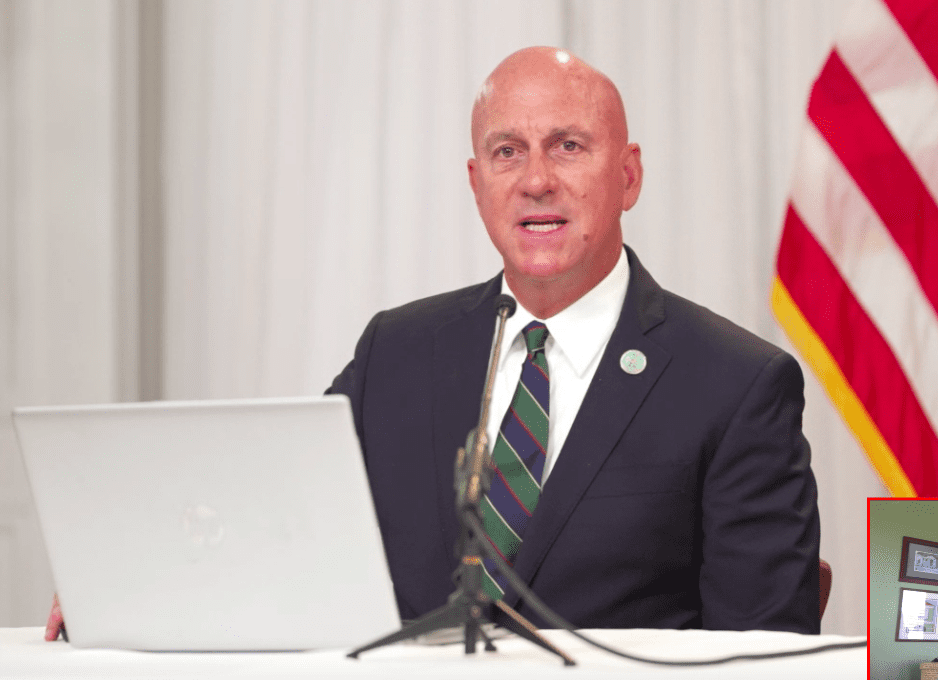 Several government agencies are still focused on mediating waves of sargassum that threaten to clog the desalination plant on St. Croix since July when President Joe Biden declared a state of emergency. Divers constantly are cleaning water lines fouled with the substance that has deteriorated to a coffee-ground substance, the director said, and each time the plant must be shut down.
"The water storage level is between three-and-a-half and four days, which supports about 50 percent of the homes and businesses on St. Croix," Jaschen said. "The goal is to have 11 days of water on hand," he added.
.
Other countries are also dealing with the problem and seeking solutions, but most solutions are impractical and costly.
"It worsens every year in conjunction with climate change," he said,
According to the director, the good news is there is no imminent threat of new sargassum, and in the last few days, almost 80 percent of the needed water was produced, increasing the reserve to four-and-a-half days.
On a different subject — with the peak of the hurricane season approaching — Jaschen will attend the weekly Government House briefings through the end of the season. No storms are expected in the next five to seven days due to dryness in the area, he said, but people should start to prepare.
In case a storm approaches, VITEMA will issue a hurricane watch when the weather is 48 hours away and hurricane warnings when a storm is 36 hours away. Since storms can escalate rapidly, a hurricane warning may be the only alert residents will receive, he noted.
Ellis announced there are eight suspected cases of monkeypox in the Virgin Islands, but none has been confirmed. Currently, the Health Department has 160 vaccines that will be administered beginning next week. Health also is in the process of educating and training providers in the territory to deal with the virus, she said.
Ellis also gave an update on COVID-19 in the territory. There are 189 active cases, she said, with 116 on St. Croix, 68 on St. Thomas, and five on St. John. Seven people are hospitalized with the virus – three at Juan F. Luis Hospital and four at Schneider Regional Medical Center. Keeping current with vaccinations is the way to avoid getting sick, Ellis said. Vaccinations and testing are being conducted at the Health Department facilities, and people should call 340-244-0016 to make an appointment for a vaccine.
Bryan made several financial announcements, including a $25 million grant to complete Veterans Drive on St. Thomas.
He also said he hopes to pay $40 million in retroactive pay to around 6,000 government workers — a 30-year-old debt. The Bryan administration had promised $25 million a year to reduce the $135 million owed to government employees since 1989. Bryan said the additional millions are to help the seniors who have retired or are nearing retirement and feeling inflation the most.
"However, after a joint review of our projected revenues and expenditures, I believe that we have the wherewithal to make a larger initial payment. Therefore I sent correspondence to the Legislature earlier today asking for the requested appropriation to be increased to $40 million," the governor said.
Bryan also announced that a new fitness program, Our Best Life, for seniors will begin and run through September on three islands every Tuesday and Thursday from 9-10 a.m. Classes will be held at Altona Lagoon on St. Croix, Emancipation Garden on St. Thomas, and at the Department of Sports, Park, and Recreation on St. John.