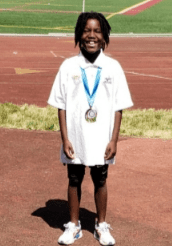 LeSotho Golphin won a bronze medal in long jump with a distance of 3.31m at the Amateur Athletic Union (AAU) Region 13 Qualifier held June 29-July 2 at Benedictine University; therefore, he is not only All-State, but All-Region, qualifying in the top 6 in the 10 years old division for the Amateur Athletic Union (AAU) Junior Olympic Games set for July 30-Aug. 6 in Greensboro, N.C.
At nine years old, Lesotho has won three medals in the 10-years-old category in the series of meets leading up to the AAU Junior Olympics, previously winning silver medals in the high jump and long jump events at the Speed Capital Illinois Invitational and the AAU Central District Qualifier Meets in Chicago earlier this month.
LeSotho is coached by his father Charles Golphin Jr. and trains with Terrell Henderson and the Hounds and Foxes Track Club St. Croix and Chicago Branches.
The dynamic duo of Coach Golphin and Coach Henderson hauled in MVP winners for male Zion Morrison (in the 13-year-old division) and female Jordan Hamb (in the 14-year-old division). Both MVP athletes medaled in four events each and also qualified for the AAU Junior Olympics in four events.
Morrison won the 100-meter hurdles (15.68) and long jump (18-03.75 feet/ 5.58 meters) and finished second in the 100-meter dash (:12.13) and 200-meter dash (:24.68).
Hamb won the 100-meter hurdles (:15.92), finished second in the long jump (15-04.75 feet, 4.69 meters) and the 100-meter dash (:12.96) and took third in the 200-meter hurdles (:29.24).
Overall performances of the Henderson/ Golphin-led Hounds & Foxes Track Club athletes:
WINNERS
Gold – Zion Morrison (100mH, Long Jump), Jordan Hamb (100mH)
Silver Medal – Jordan Hamb (Long Jump, 100m), Zion Morrison (100m200m),  Sarahashley Briggs (80mH)
Bronze Medal – Jordan Hamb (200m), LeSotho Golphin (Long Jump), Richard Smith Jr. (80mH), Arredia Primar (100mH)
Performances
Kaeden Smith (100m, 200m, 400m); Richard Smith Jr. (100m, 200m 80mH); Nicalas Pleasant (100m, 200m, 400m); LeSotho Golphin (200m); Arredia Primar (100mH, 200m); Kortni Smith (Hurdles, 200m); and Tylar Smith (Long Jump (Hurdles, 200m)