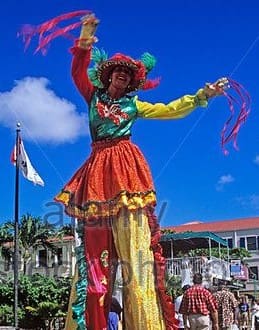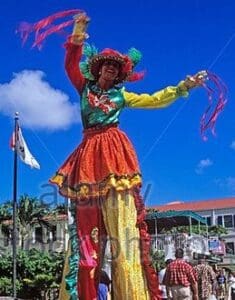 A mélange of local food, music, dance, rooted in decades of cultural tradition, reignited the islands. The 70th annual celebration of St. Thomas Carnival was an eclectic celebration of culture and tradition. This year's theme, "A New Cultural Roogadoo for Carnival 2022," included daily free events for children, adults and families of all ages produced by the Department of Tourism's Division of Festivals.
Following two years of virtual events, Carnival returned in person to St. Thomas for an abbreviated five days of food, music and culture. It was a juxtaposition of long-standing traditions such as calypso music, J'ouvert and parade with a refreshed modern lineup of artists and events.
"St. Thomas Carnival was a labor of love and a step in the right direction to returning to pre-pandemic levels," said Ian Turnbull, Division of Festivals director. "We wanted to be bold and integrate some of the more traditional cultural elements like live bands and calypso for our older generations, but also cater to the younger generation with some newer, modern, local artists. The community's response and support were incredible to witness, and it was clear there was a longing for Carnival to return in person."
Locals and visitors alike joined together in celebration for the highly anticipated program that included the sounds of Caribbean music such as calypso, soca, and reggae bands, daily fetes and shows for the music lovers. For five consecutive village nights, local and world renown artists hit the stage such as Kes the Band, Beres Hammond, Spectrum, Rock City and Adam O, to name a few.
Food lovers flocked to the annual Food Fair, traditionally held at Emancipation Garden but this year took place at Crown Bay, where locals were met by visitors docked on tour ships. Local high school students of Shamang Straun's architectural class at Charlotte Amalie High School took on the task of designing the fairgrounds layout to allow a freer flowing and organized tasting experience of local and cultural dishes. Additional local Caribbean delicacies could be found at the village grounds daily.
The experience of Carnival is not complete without the parades where locals and visitors of all ages band together in colorful costumes while marching and dancing through the streets alongside live bands, steel drums and the alluring mocko jumbies, the stilted dancer's representative of the spirit guides in the islands. This year, Carmen Sibilly was honored and re-crowned as Carnival Queen of 1952.