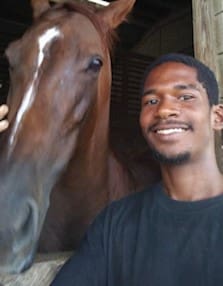 Michael A. J. Petersen died Sunday, April 10.
He is survived by his mother, Ellen Petersen; father, Leon Petersen; grandmother, Marilyn Hypolite; brothers: Peter Edwards (Rosana) and Steven Christopher; sisters: Shanda Petersen-Collier (Eric), Stephani Pemberton (Duanne), Maunia Petersen-Roberts, Jenee Charles (Sean), Shayna Petersen and Ann Marie Edwards; and aunts: Francine DeLande (Peter), Barbara Hall (Wayne), Amelia Joseph (Frederick), Arlene Abrahams, Louise Samuel, Louisa Petersen and Eartha Derricks (Henry).
He is also survived by uncles: Ajin Williams (Hannan), Steven Williams (Sandi) and Aureliano Marin (Paulette); nieces: Karina and Kaili Edwards, DaReone and DaMione Christopher, Maylanah Petersen-Spires, Ajah Collier, Jynorah Pemberton,  Braya Petersen, Amira Petersen, Alessia Roberts, Jamaira Moore, Shanelle Soldiew and Tyanna King; nephews: Lucas Edwards, DeVante, DeOndre and and DeMaqui Christopher, Jayden Collier, Noah Pemberton, Jason Moore, Jaysean Charles, Micaiah Harrigan, Nehemiah Roberts, Jahloni King and Jirval Soldiew.
Other survivors include cousins: Cochava, Mayana, David, Daniel, Dean, Paula, LaVern, Dana, Audra, Amber, Shadrach, Kerisa, Howard, Peter, Jens, Carl, Kirsten, Evadney, John, Cephas, James, Sharon, Brenda, Debra, Lisa, Michelle, Okeda, Cheryl, Rennie, Yusef, Jamal and Hakim; special friends: Evadney Christopher and family, the Edwards family, Richardson family, Horse Racing family, I.G., Castro, Ken, Ms. Cornelius, James, Edna B, Sisters Keepers, Harper family and Nieves family; numerous second and third generation cousins; as well as other family and friends too numerous to mention.
The family requests that in celebration of Michael's life guests wear green.
The viewing will be held at 9:30 a.m. followed by a funeral service at 10:30 a.m., Wednesday, May 4, at Divine Chapel, 129 Peters Rest, Christiansted. Interment will be cremation.