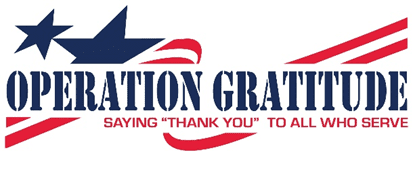 The National Governors Association Winter Meeting took place last weekend in Washington, D.C. and provided an opportunity for some attendees to send a heartfelt "thank you" to our nation's military.
'Operation Gratitude' teamed up with Joining Forces and the First Lady of the United States, Dr. Jill Biden, Ph.D., to host an assembly event at the White House where Dr. Biden, Second Gentleman Douglas Emhoff, 21 governors' spouses, and 10 senior military spouses created Operation Gratitude care packages for 1,000 National Guard Soldiers deployed across the country in support of the COVID-19 pandemic response.
These packages contain snacks, personal care and hygiene products, handmade items and, most importantly, handwritten letters from grateful Americans from across the country, aiming to lift the spirits of service members stationed far from home.
Joining Forces is a White House initiative under the leadership of the First Lady to support those who also serve: military and veteran families, caregivers and survivors. Through the partnership with Joining Forces and the on-site support of these governors' spouses, Operation Gratitude not only recognized the dedication and sacrifice of those in uniform; it also celebrated the spirit of volunteerism.
Operation Gratitude CEO James Johnson said, "We're excited to join Dr. Biden, the governors' spouses, and spouses of senior defense leaders in honoring the brave men and women who've raised their hand in service to our nation. The individuals taking part in this care package event are each a leader in their own right, and we hope they'll bring the mission and vision of Operation Gratitude back to their communities so that all who serve will believe the American people care."
Operation Gratitude is a nation-wide nonprofit dedicated to providing grateful Americans across our country with opportunities for hands-on volunteerism in support of military, veterans and first responders. In March of 2003, Operation Gratitude sent its first four care packages to deployed service members in Iraq. Since its inception, the organization has encouraged Americans across the country to express their gratitude and lift the spirits of millions of deployed troops, recruit graduates, veterans, military families and first responders.
The volunteers of Operation Gratitude are a generous and spirited grassroots network of Americans joined in common cause to say "thank you" to all who serve our great nation.
For more information, visit OperationGratitude.com or follow us the organization on Twitter at @OpGratitude.