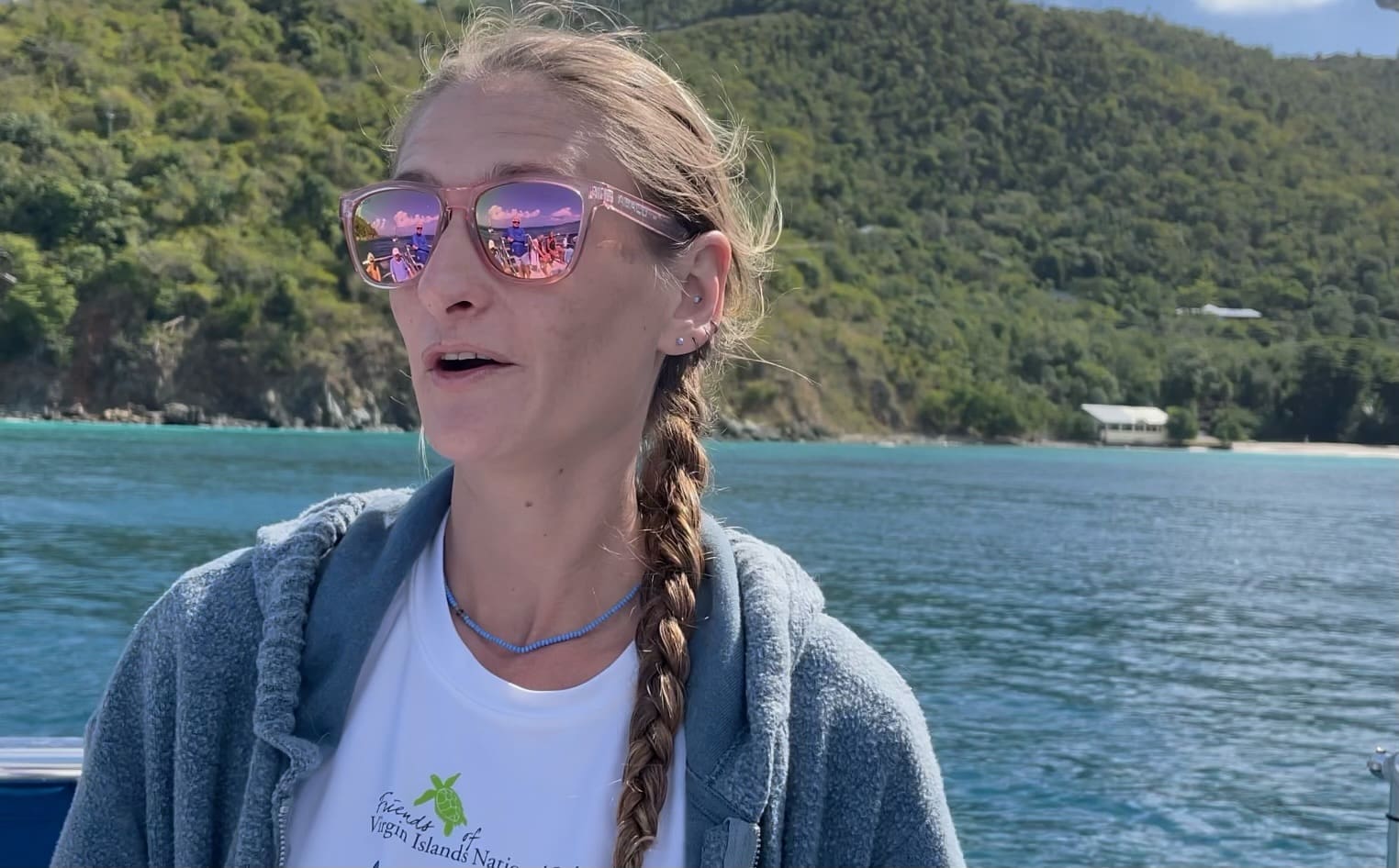 A partnership with Ocean Surfari has given the Friends of the V.I. National Park the chance to offer an on-the-sea classroom experience, with residents and travelers learning how to safely interact with and protect local marine life while swimming alongside them in the cool blue Caribbean water.
The launch of the organization's "Turtle Talks at Sea" put the spotlight Sunday on Willow Melamet, the V.I. National Park's Sea Turtle Program Coordinator who spoke to a small group of participants about everything from local turtle habitats to nesting patterns as the Sunfari catamaran nestled into Maho Bay on St. John. Melamet said Maho Bay is one of the most important foraging grounds for the green sea turtle of the Virgin Islands, with the protected area packed with seagrass for juveniles and adults ranging from 10 to 200 pounds.
Turtles have little interest in humans and, on the whole, just want to rest, eat and swim, but keeping about six to ten feet of distance does allow swimmers to observe and have meaningful interactions with the majestic creatures, according to Melamet. As the turtles have to come up for air every three to five minutes, it's difficult to have people nearby, and Melamet said if one does get close, the best practice is to stay calm and have good body control to avoid startling them.
Once a turtle is stressed, immunosuppression – the state in which its immune system is not functioning as well as it should – goes down, and the turtle can become susceptible to disease. According to Melamet, turtles in the Maho area, which is more self-contained, are showing signs of fibropapillomatosis, or FP, a type of herpes virus that grows on the soft tissue around the eyes and flippers. In green sea turtles, especially, it's on the rise, and along with looking at environmental factors such as water flow and quality, Melamet said that monitors are looking at human-based stressors as well.
There is a $5,000 fine in place for touching, chasing, or harassing a sea turtle, she added.
Turtle Talk participants didn't have long to wait after diving off the boat: a few feet away, the group spotted a green sea turtle that Melamet said was about 20 years old and immediately put into practice their social distancing techniques as they watched it munch on seagrass, with two remora – or, suckerfish – fanning its back.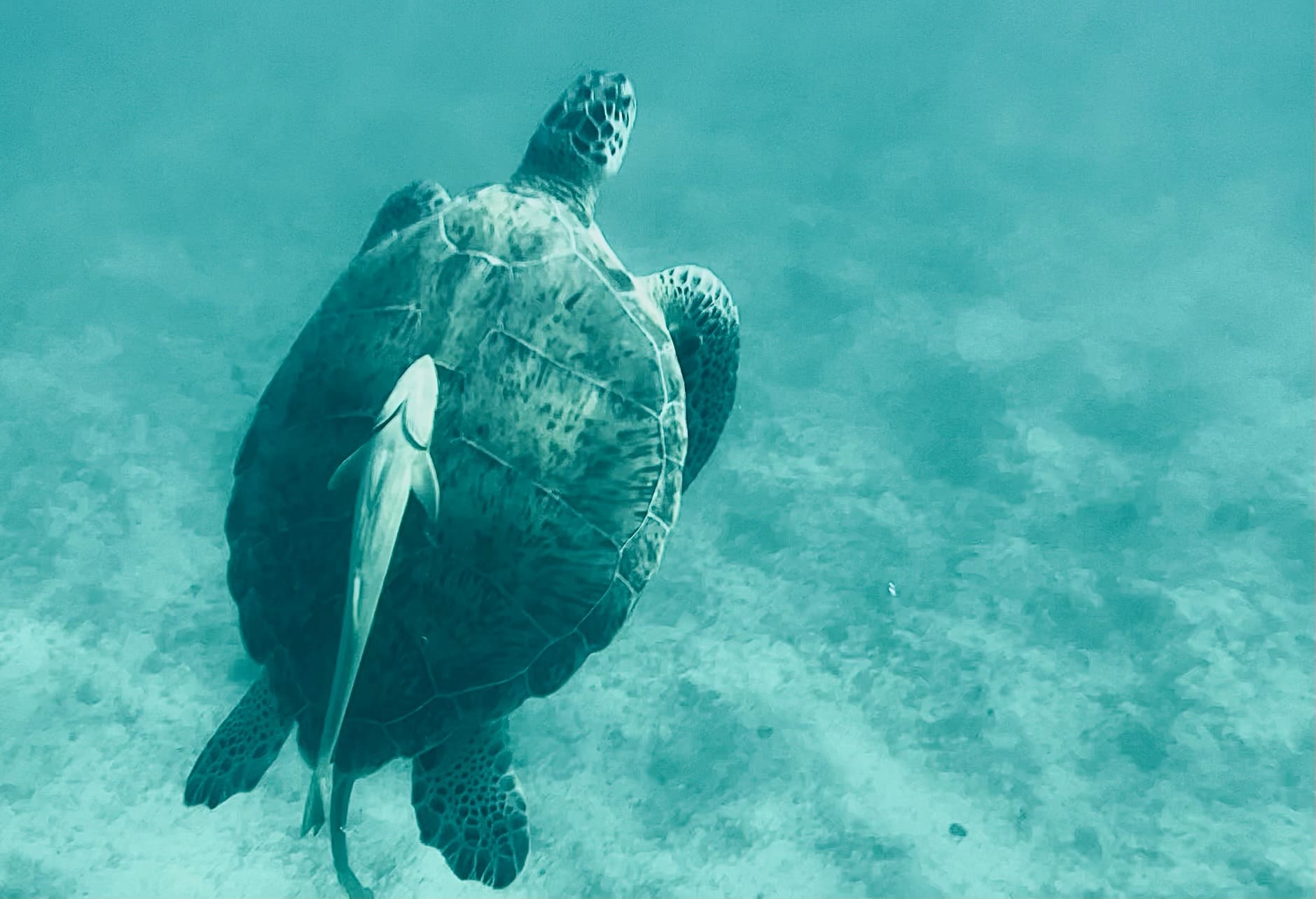 Also common to St. John are the hawksbill turtles, which some also spotted on a second stop at Hawksnest Beach on the island's north shore. Another National Park Site, Hawksnest, is a prime nesting site, with adults migrating from June to November to lay eggs. A focus of the Turtle Monitoring Program, which is funded through the V.I. National Park by the Friends of the V.I. National Park is ensuring that important "hot spots" are protected, and Melamet said so far this year, about 31 have been found, with four still incubating.
"Every little turtle matters – we want to get as many as we can protected – as the odds are against them," she added, saying that at best, the survival rate for hatchlings is one in every 1,000. Historically, the numbers have reduced along with the rise in human-based pressures, such as boat strikes and plastic ingestion, and along with making Turtle Talk participants aware of facts and figures, the program is also determined to educate boaters and captains about how to properly enter areas populated by turtles, how to properly discharge waste, reducing the use of plastics and promoting products such as propeller guards and reef-safe sunscreen.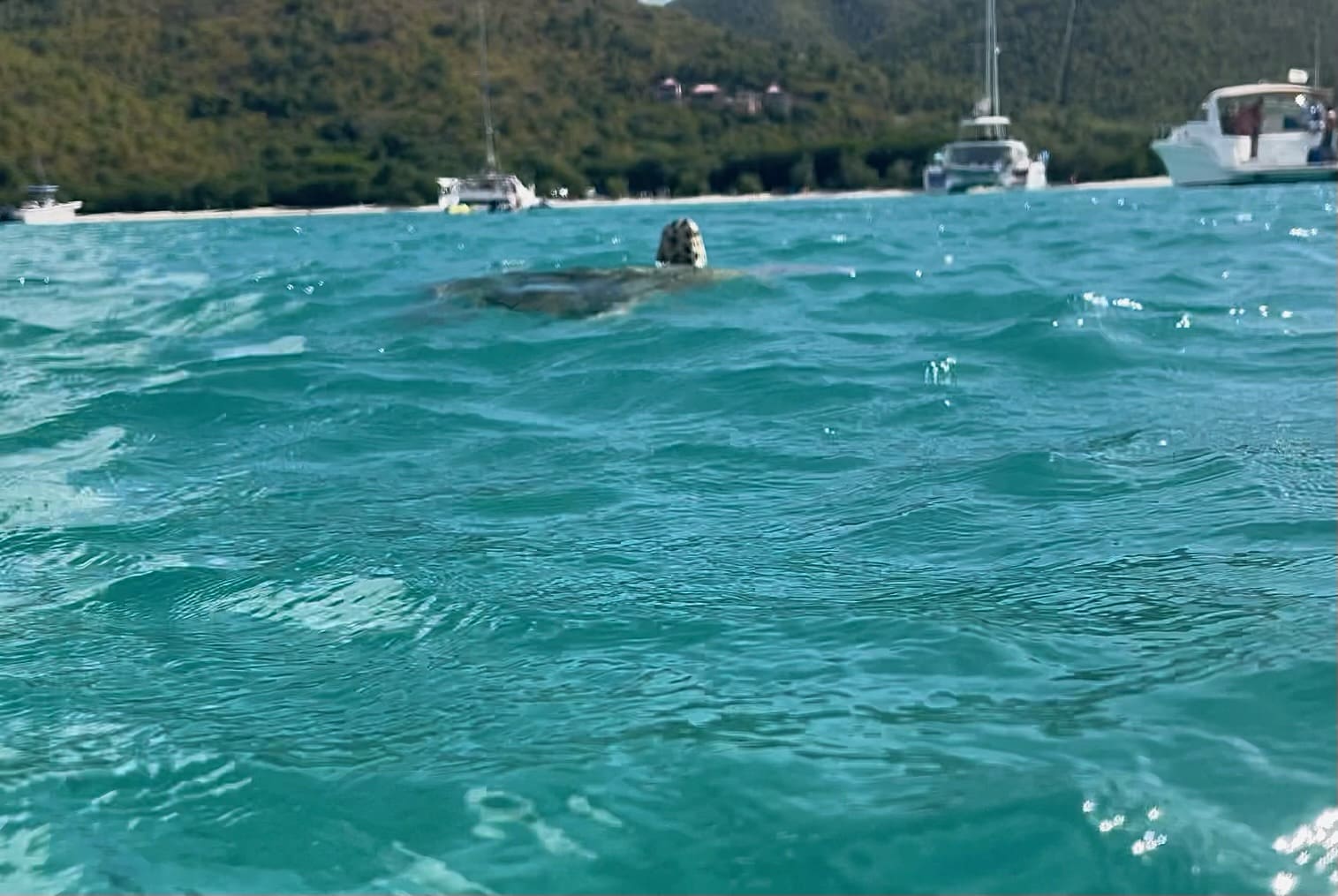 "All of these turtles need our help and protection," Melamet said. "They are protected here on a local and federal level, but even in areas nearby, the guidelines are different, so it is really important for us to provide as much protection and places of sanctuary as possible."
Sunday's Sea Turtle Talks at Sea was the first in a series for the Friends of the V.I. National Park, but more will be offered on the second Sunday of each month for the next six months. To find out more, email vinpturtles@friendsvinp.org.