Gov. Albert Bryan, Jr. took to the airwaves Friday morning beseeching Virgin Islanders to stay safe and at home for the New Year's holiday but acknowledged the spiking numbers of the new Omicron variant are expected to level off and eventually decrease in the next few weeks, so more stringent restrictions are not being considered at this time.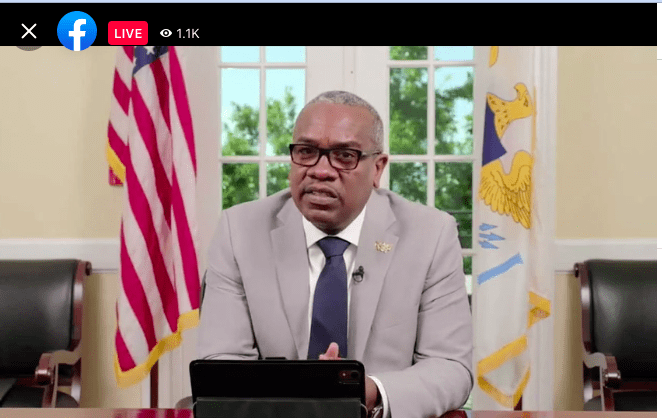 As of Dec. 30, there were 1,251 active cases of COVID-19 in the territory – 623 on St. Croix, 606 on St. Thomas, and St. John has 22 cases. According to Bryan, that is three times higher than during any other surge of infections.
According to NBC News, there were 580,000 infections reported nationally on Dec. 30 – roughly the population of Wyoming.
"We're not watching the number of cases, we're watching the numbers of hospitalizations and deaths to decide whether we shut down or not," Bryan said.
Bryan expects cases to flatten next week and decrease the following week, otherwise, "drastic measures" will be considered, he said.
The positivity rate on Dec. 30 was 17.73, up from 11.6 percent four days ago. Three people are hospitalized at the Juan F. Luis Hospital with one patient vented, and seven people have been admitted to the Schneider Regional Medical Center. The 89th death this week was a 68 year old on St. John.
Bryan and Encarnacion said the Omicron variant has been identified in the Virgin Islands. According to the Health Commissioner, 90 percent of the samples sent to the Centers for Disease Control were Omicron, and 10 percent were the Delta variant.
In the last week, the DOH has administered more tests than ever – 2,624 on Dec. 29. To deal with the increase in testing, contact tracing, and vaccines, Encarnacion said the DOH has implemented new strategies and is hiring additional staff using V.I. National Guard personnel and contracting medical staff through the Pafford agency. Contact tracing will be reduced temporarily to only hospitalized cases and "atypical circumstances," she said.
Bryan and Encarnacion said several times that the Omicron variant may not test positive until a couple of days after infection, and that is when patients are most contagious. Those who suspect they have been invected should wait three to five days to get a test.
"Your viral load will be at a point to best determine if you are infected with COVID-19," after 3-5 days, she said.
Encarnacion said symptoms reported by positive cases included sniffles, headache, sore throat, shortness of breath, and other cold-like symptoms, as well as some gastrointestinal problems. However, she didn't know the number of tests that had symptoms and those asymptomatic.
The commissioner said residents who become ill at work and have COVID -like symptoms are to leave work and schedule a test. They must quarantine while waiting for results and remain quarantined until symptoms are gone, and they test negative.
Advice for those who test positive is simply to quarantine until they test negative and isolate within their home if they have symptoms.
Without symptoms, infected people can return to work after five days of quarantining but must wear a mask over their nose and mouth.
The Health Commissioner said vaccinated people, who have been exposed to someone with COVID, can return to work after five days, wearing a mask in public. They should get tested if symptoms develop, she added.
Residents who are unvaccinated or are not fully vaccinated and have been exposed to COVID need to stay at home for 10 days and test on day 7 to possibly shorten quarantine time, according to the commissioner.
Pop-up testing will continue at the Community Vaccination Centers on St. Thomas and St. Croix Monday through Friday from 1:30 to 3:30 p.m. On St. John, tests are available Wednesday and Friday from noon to 3 p.m. People can walk-in or schedule tests.
To schedule a test, call 340-712-6299 on St. Croix, 340-776-1519 for St. Thomas and St. John from 8 a.m. to 10 p.m. or online at: covid19usvi.com/testing.
Bryan advises employers not to encourage employees to come to work if they have symptoms – "it is better to shut down for a few days than longer when more people are sick.
Bryan said the final decision to return to school has not been made yet, but they are leaning towards re-opening. He said he realizes there will be a corresponding increase in cases. The Omicron variant doesn't seem to last as long or cause as severe illness as previous forms of the virus.
Bryan ended the press briefing by calling for an end to the "worst tradition here in the Virgin Islands" – shooting guns in the air at midnight on New Year's Eve. He also advised residents to stay inside to avoid getting shot and/or catching the virus.
"I'm going to be in my house tonight," he said. "Stay at home. But if you're going out, please take extra precautions. Keep your mask on, your hands and body away from other humans and your hands washed at all times."