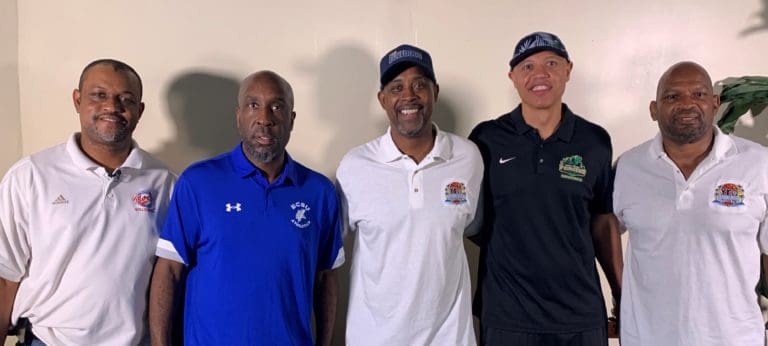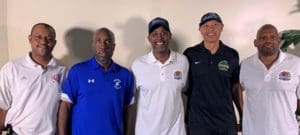 Christmas time usually brings excitement for kids anxiously anticipating what Santa Claus will leave under the tree for them. Ernest Ruffin Jr. played the role of Santa for three groups of young men who traveled to St. Thomas, U.S. Virgin Islands to participate in the inaugural YES/USVI Basketball Classic.
Coach Shawn Walker of Elizabeth City University said, "I have guys that got on an airplane for the first time today," at the press conference for this event held on Wednesday afternoon. He continued, saying, "Phenomenal event, phenomenal territory, phenomenal experience for our young people."
Joe Lewandowski of Point Park University said, "When we got off the plane I said what postcard did I stop into. This is a beautiful place. Absolutely gorgeous."
"The COVID situation has everyone a little lost but we made it here. We are excited to be here," said Kenny Anderson, head coach of Fisk University.
As excited as everyone is to be here, this tournament almost did not happen. A call from Tourism Commissioner Joseph Boschulte made Ruffin a little nervous. Ruffin told Boschulte, "I have three teams in the air. HBCU TV in the air. There is no way you can pull the event." But Boschulte told Ruffin that event isn't cancelled. There just cannot be any fans in the stands at the event. That was the new directive from the Department of Health.
The event is happening at Antilles School's MCM Center. "We are excited to be able to host a college tournament in our facilities," said Antilles School Athletic Director Mark Daniel. "You can watch the games live at antilles.booktix.com."
The schedule has changed since Wayne State University had to drop out because 12 of the 15 players on their roster came down with COVID-19. This two-day event in now three days.
Here is the game schedule:
Friday, December 31, 2021 – Elisabeth City State University vs Fisk University – 2 p.m.
Saturday, January 1, 2022 – Point Park University vs Elisabeth City State University – 11 a.m.
Sunday, January 2, 2022 – Fisk University vs Point Park University – 11 a.m.
This event is sponsored by Young Entrepreneurz Solutions, USVI Department of Tourism, Comerica Bank, VI Lottery, VI Department of Sports, Parks and Recreation and Community by Southland Gaming.