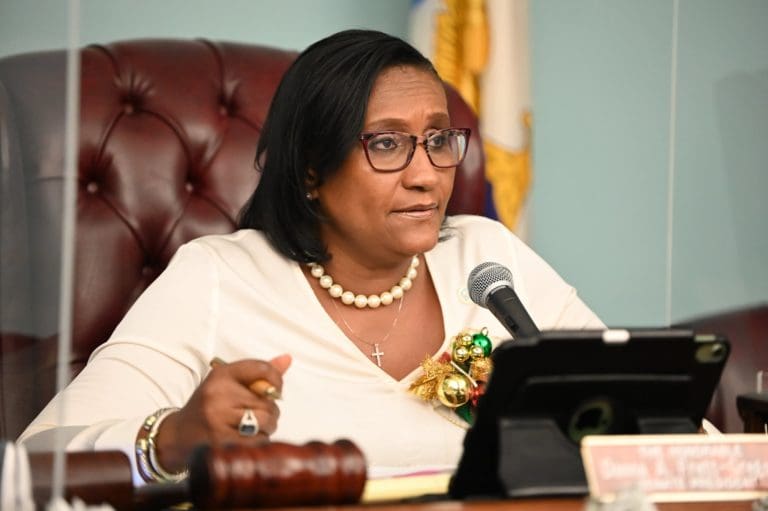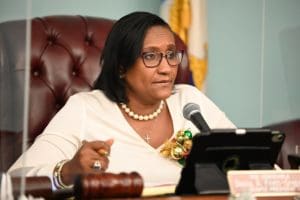 The Committee of the Whole reviewed six zoning map amendment applications during Thursday's hearing – two requests for zoning changes on St. John, one on St. Thomas, and three on St. Croix.
"Our entire discussions were around economic development for folks who are Virgin Islanders and chose to grow their business here and contribute significantly to the economic development of the Virgin Islands," Senate President Donna Frett-Gregory said.
Of the six applications, five requested residentially zoned property be rezoned as business property B-1, B-2, or B-3. Spot zoning is when the Legislature changes one property's zoning within an area zoned differently, In the past, the territory has seen the process of spot zoning impact all other neighboring properties abiding by the current zoning.
Though the practice remains, it may bring resolution to Thursday's applicants whose written delivered testimony staunchly justified their need for their respective zoning changes.
St. John
Having over 40 years of residency in St. John, applicant Gwenda Dagou who "cooks with love" requested the Legislature rezone her property from R-1 or residential-low density to B-2 or business-secondary/neighborhood, to allow her to operate a restaurant and apartments.
Dagou had been legally operating a mobile food truck on her property but kept it stationary. She said in 2019 the Licensing and Consumer Affairs informed her because the truck was not moving, she would require a different class license – one for restaurants.
"I agreed to go through the process not being aware of what it would involve," Dagou said.
In October 2019, Dagou said the Department of Planning and Natural Resources stopped the issuance because the license could not be held in an R-1 zone. When she reapplied for her catering and mobile food van licenses, those licenses too were denied for the same reason.
"I was told that if I was found to be operating my business, I would be fined. So, with this hanging over my head, I decided to go ahead and rectify this situation and try to get the zoning changed," Dagou said.
Similarly, applicants Jennifer Blake and Jason Callwood also wish their property rezoned from R-1 to business-secondary/neighborhood with the intention of creating commercial business space.
The applicant's zoning consultant Brian Turnbull said the undeveloped parcel is located along Centerline Road with no residentially developed properties adjacent to it.
"My clients, who are local residents, wish to make commercial opportunities for small businesses to become available on the island of St. John," Turnbull said.
St. Croix
Ali and Hamad Yusuf of New Foundation Company requested their property be rezoned from residential to a business central district so their family can operate a restaurant and coffee shop.
Yusuf, who was born and raised in the territory, said there were concerns raised during community meetings about the "possibility of me diverting from the proposed plans and then opening a gas station. Even though a gas station was not mentioned during our initial meetings, they seemed unconvinced."
But he maintained his stance that the intention of rezoning was to construct and operate a restaurant and coffee shop – not a gas station.
Genoveva Tirado requested a derelict, residential-medium density property be rezoned to business-scattered to allow the ability for Tirado to open a convenience store and deli.
"This vandalized building will no longer be an eyesore to the community nor a haven for homeless, other elicit activities nor a garbage dump. This building was a Bar and Restaurant known as Zulima," Tirado's representative Lilliana Belardo de O'Neal said.
If the Legislature approves the request the renovated structure is supposed to consist of an office, bathrooms for males and females, storeroom, and kitchenette O'Neal said.
Timothy and Marie Granderson are requesting their R-2 zoned property be rezoned for either B-2 or B-3 with the intent to relocate a distance freight shipping company. Once completed, the business will require an estimated four employees.
St. Thomas
Simra James-Sydney was the only applicant on Thursday who did not ask for a residentially zoned property to be converted to accommodate business. She is seeking her property to be bumped up to a residential-medium density zoning, which would allow her to have ten dwelling units.
Roosevelt David, who represented the James-Sydeneys, said the building would be five stories tall and the applicant has met all the government requirements.
All applications will be considered by the Legislature, of which Frett-Gregory said the advisements of each request from the Department of Planning and Natural Resources will be taken into strong consideration.
"They are the professionals. So, absent of a Land and Water Use Plan, I think it's important for us to respect that. We have to consider not what is in front of us today, but what will be in front of the U.S. Virgin Islands long after many of us are gone," Frett-Gregory said.
Sens. Frett-Gregory, Kurt Vialet, Janelle Sarauw, Milton Potter, Novelle Francis Jr., Franklin Johnson, Javan James Sr., Carla Joseph, Genevieve Whitaker, Dwayne DeGraff, Samuel Carrion, Alma Francis Heyliger, Steven Payne Sr., and Marvin Blyden were present for the hearing. Sen. Kenneth Gittens was absent.