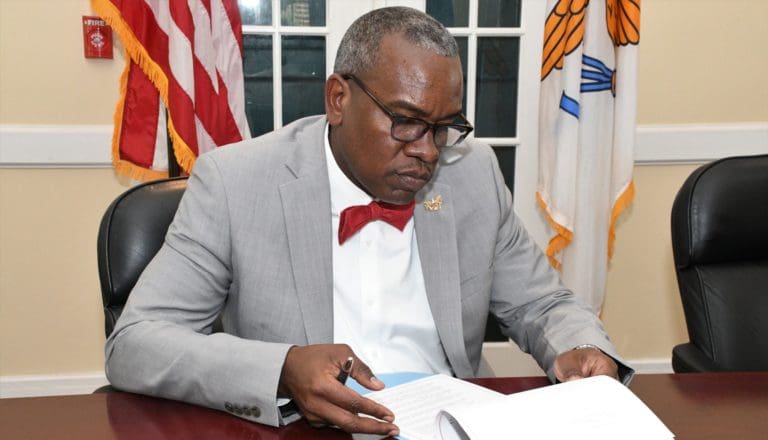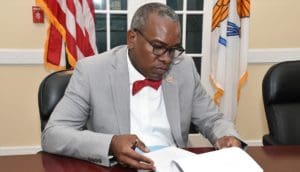 Gov. Albert Bryan Jr. signed dozens of bills Monday, with the stroke of a pen banning corporal punishment in public schools, bringing about more opportunity in leadership for women and mandating a plan for a possible future seed bank.
Below is a list of the bills, resolutions, and zoning requests that have been signed by the governor. To learn more about each piece of legislation, click on the provided links:
Bill No. 34-0097: In Bryan's transmittal letter to Senate Pres. Donna Frett-Gregory he congratulated the Legislature "for acting on behalf of our children." He added he was "pleased" to sign the bill into law which bans the use of corporal punishment in public schools, ending a decades-old debate. This legislation was both championed and sponsored by Sen. Janelle Sarauw.
For more on this click here, here and here.
Bill No. 34-0062: Though Bryan said he was "reluctant" to sign the bill into law asking for a "good faith effort" be made in the appointments to government boards to try for gender balance, he still approved the legislation sponsored by Sen. Genevieve Whitaker.
Bill No. 34-0047: With the passing of this legislation, the Department of Agriculture and the University of the Virgin Islands will be mandated to create a plan to develop a community seed banking program, possibly eventually ensuring the preservation of the territory's flora and fauna. There is no funding yet for the plan or for an eventual seed bank.
Bill No. 34-0040: This establishes a Nurse Licensure Compact to create a multistate nursing license with the goal of attracting qualified health care professionals into the territory.
Bill No. 34-0089: This bill appropriates funds from the St. John Capital Improvement Fund to construct a heavily anticipated community fish market in Cruz Bay along with a new boat dock and slipway at Enighed Pond.
Bill No. 34-0051: Changes to the required minimum amount of fluoride in freshwater distributed for public consumption will be in place to prevent tooth decay. However, Bryan said the bill is unfunded and "although well-intentioned, unfunded mandates are hollow statements of policy and do not truly serve our community." Click here for more on this.
Bill No. 34-0053: This $160,000 appropriation from the Centennial Special Fund to the Department of Education to fund an Emergency Medical Services program "was a necessary step supporting the upcoming integration of Emergency Medical Services and Fire Services," Bryan said.
Bill No. 34-0069: Directs the commissioner of Public Works to maintain a master contract of resources for government entities handling capital improvement projects under $500,000. The legislation, sponsored by Frett-Gregory, is intended to expedite projects in the territory. See here and here.
Bill No. 34-0078: Sparks a land exchange between the Port Authority and the Department of Education which aims to unlock a new funding source for maintaining public schools. The land from the former Addelita Cancryn School would be granted to the Port Authority for a new transshipment hub. Some of the revenue from the eventual facility would go to the Education Department.
Bill No. 34-0081: Changes the name of a licensing board to the V.I. Board for the Licensing of Barbers, Cosmetologists, Estheticians, Nail Technicians and Natural Hair Stylists, and provide a series of code revisions, updating the 50-year-old bylaws.
Bill No. 34-0085: Increases the fine for the unauthorized importation of snakes in the wake of a rising number of large, feral, invasive boa constrictors.
Bill No. 34-0099: Raises the mandatory retirement age of police officers, firefighters, and correction officers from 55 to 65.
Bryan also signed into law five resolutions commending Mr. Hillary "Baga" Rezende, St. Clair Alphonso, Athniel C. "Addie" Ottley, Holland L. Redfield II, and Elridge Blake.
Bill Nos. 34-0158, 34-0159, 34-0160, 34-0161, 34-0162, 34-0163, 34-0164, and 34- 0165, all relating to zoning requests were also signed into law.
Bryan vetoed Bill No. 34-0168, a measure he said was drafted as a "special interest" bill and called for the removal of the licensing requirement that a Casino IV establishment has banquet facilities to accommodate a minimum of 400 persons.