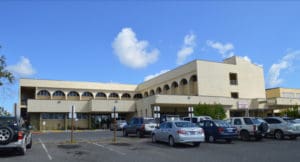 Gov. Juan F. Luis Hospital on St. Croix is offering discounts up to 50 percent to those who are behind on their medical bills with the facility as far back as 2014, it announced on Tuesday.
"The JFL team is excited to introduce this program to help our patients enter into the 2022 calendar year debt-free from their JFL medical bills at a discounted rate," Dyma Williams, the hospital's interim chief executive officer, said in the news release. "I know that many in our community have expressed a desire to own a home, and we recognize debt owed to JFL may stand in the way. We are here to offer an opportunity to overcome that," she said.
Clearing past debts will allow for funds to be invested back into the hospital so it can provide better patient care, facilities, advocacy, and community health partnerships, as well as meet long-term growth goals, according to the release.
At a meeting of the V.I. Hospital and Health Facilities Corporation Territorial Board in June, Chair Chris Finch said JFL's income for fiscal year 2022 is projected to be $85,988,637, and expenses are estimated at $87,324,228, for a $1.3 million shortfall. For FY 23, JFL estimates revenue to be $90,611,200 and expenses $88,567,645, he said.
The income for both JFL and Schneider Regional Medical Center on St. Thomas includes an annual allotment from the V.I. government, with the Office of Management and Budget recommending $27,750,000 for each hospital for 2022, Finch said in June. For FY 21, JFL received $23.5 million and Schneider $25 million. Jenifer O'Neal, board treasurer and director of the Office of Management and Budget said the hospitals each received a seven percent increase.
The new debt relief program is available to past and present JFL patients who fall into any of the following categories:
– All inpatient and outpatient with current or past debt incurred on or before December 31, 2021;
– All government employees;
– All self-pay accounts.
Those who already have a payment plan agreed to with JFL or JFL Collections are eligible to apply the discount to the remaining unpaid balance, according to Tuesday's release. Call 340-778-6311, extensions 2861, 2813, 2797, or 2876 for further details specific to your account.
Active JFL collections agency credit records will be cleared once the balance is paid in full. Payment plan arrangements are allowed but are to be paid in full by March 31, 2022, according to the release.
Discounts apply to any dates of service before the following dates:
– 50 percent – Debt incurred prior to December 2014
– 40 percent – Debt incurred January 2015 through December 2017
– 35 percent – Debt incurred January 2018 through December 2019
– 30 percent – Debt incurred January 2020 through December 2020
– 25 percent – Debt incurred January 2021 through December 2021