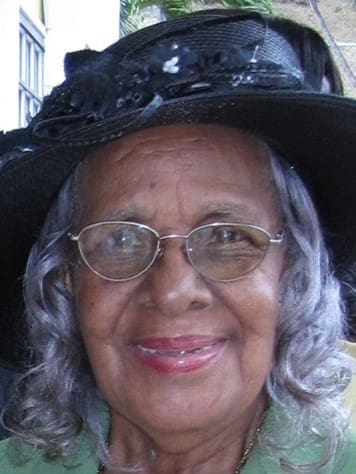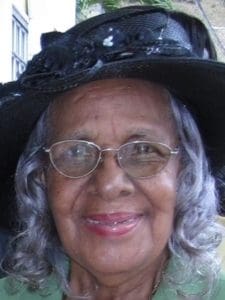 Emelda Brathwaite died on Sunday, Nov. 14.
She was preceded in death by her parents: Emily Romney-Brathwaite and James E. Brathwaite; and siblings: Sarah Turnbull-Herbert, Watley, Eldridge, Frederica, Esmeralda and Lilly Brathwaite, Hortense Brathwaite-Mctavious, Yolanda Brathwaite-Buntin and Rehena Brathwaite-Industrious.
She is survived by her children: Kent Bernier Sr. and Randy Foy; grandchildren: Kent Bernier Jr., Phillip and Cynthia (Tori) Bernier and Randi Foy; great grandchildren: Nylani, Kalan, Keziah, Kent Bernier lll, Kennedi Emelda Bernier and Cynthia Olivia Bernier White; sisters: Leanda Brarhwaite-George and Alvara Brathwaite Phillips-Shaw; and daughters-in-laws: Pamela Anthony-Bernier and Annette Henry-Foy;
She is also survived by brothers-in-law: Bishop William Industrious and Dennis McTavious Sr.; and nephews: Frankie, Ariel, Donald, Vernal and Denton Brathwaite, Julian Industrious Sr., Russell Industrious Sr., Gene Industrious Sr., Julian Turnbull, Dennis McTavious Jr., Earl Phillips, Dean Williams, Mitchel, Marvin and Michael George, and Berris Turnbull;
Other survivors include nieces: Almira Smith, Olivine and Nytha Brathwaite, Zandra Ritter, Coreen Brathwaite-Martin, Federica Graneau, Mona George, Bridget Industrious-Dorsey, Rehenia Industrious-Davis, Melva Pickering, Sonia Industrious, Bernice Turnbull-Jacobs, Rita Durant-Brin, Daphne Durant-Fahie, Barbara McTavious, Barbara Callwood, Carolyn Phillips-Lanclos, Jacqueline Phillips, Maureen Phillips-Canton and Erminie Brathwaite-Lanclos; relatives and friends: the Romney, Abendigo, Brathwaite, Industrious, Freeman, Thomas, McCleverty, LeBron and Hedrington families; as well as other relatives and friends.
A first viewing will take place from 4-6 p.m., Tuesday, Nov. 23, at Turnbull's Funeral Home and Crematory Services. A Celebration of Life will be held on Wednesday, Nov. 24, at Christ Church Methodist Market Square. The second viewing will be held from 9:30-10:30 a.m. followed with the celebration service at 10:30 a.m. Burial will be at Eastern Cemetery. Funeral arrangements are by Turnbull's Funeral Home and Crematory Services.