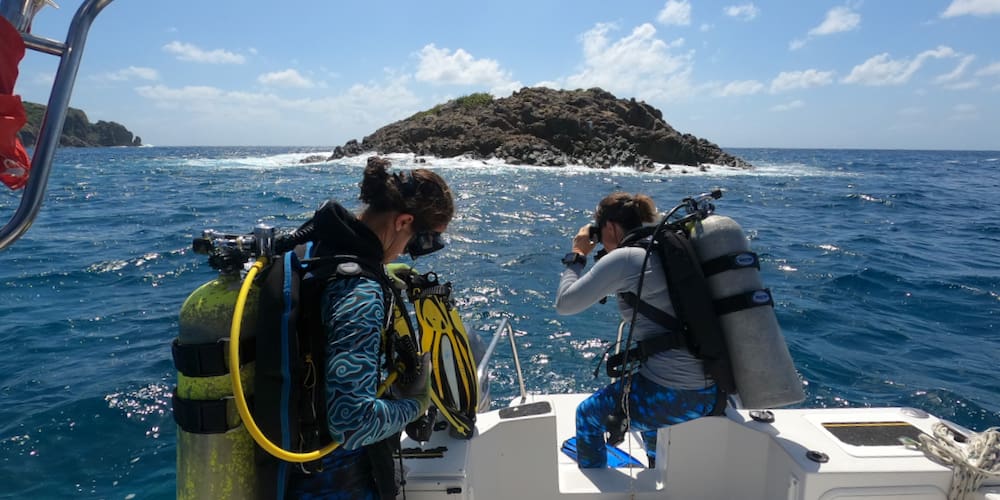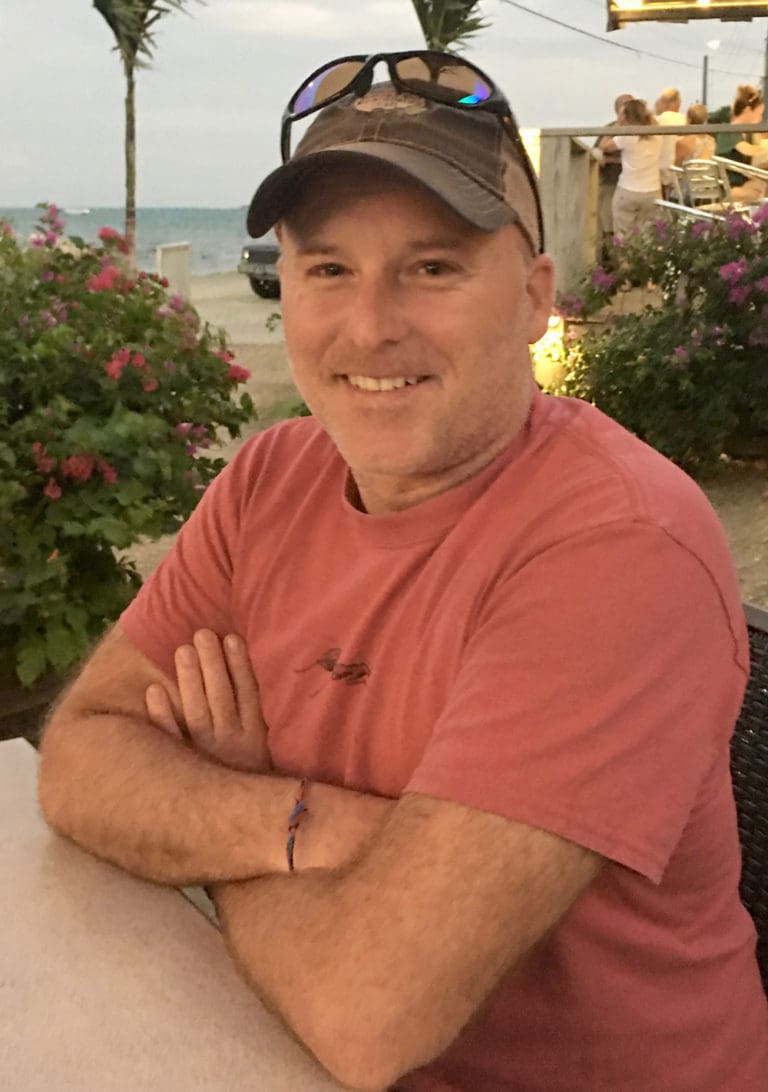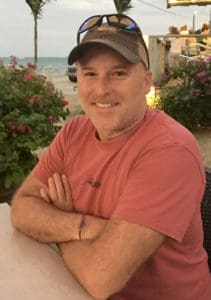 If you're a fish living in the waters south of St. John, you'd better watch what you say, because someone is listening.
People may think of the underwater world as silent, but the inhabitants of healthy coral reefs produce a whole chorus of sounds, according to Aran Mooney, an associate scientist at the Woods Hole Oceanographic Institution.
Mooney is one of a group of scientists from Woods Hole who have been on St. John since mid-October conducting research on interrelated projects involving acoustics and robotics.
One of his projects, which began in 2012, involves putting microphones on sites on the south side of St. John and taking "snapshot recordings" of the sounds.
"We're looking at two questions," Mooney said. "The first is, can we track the health of a reef's biodiversity from the sound? The second question is how do animals use that sound?"
Mooney said his research stems from work he did with the Navy while earning his doctorate from the University of Hawaii.
"The Navy was putting a lot of sound in the ocean, and my job was to determine how much was too much," he said.
As he was measuring the sound produced by Naval equipment and its possible effects on marine mammals, he became aware of sounds emanating from coral reefs. This inspired him to build one of the first underwater acoustic recorders for reefs.
"Scientists had already determined that by listening to the rainforest, its biodiversity could be detected. The monkeys, the insects – all create a rich soundscape," Mooney said. "We realized no one had done this for coral reefs."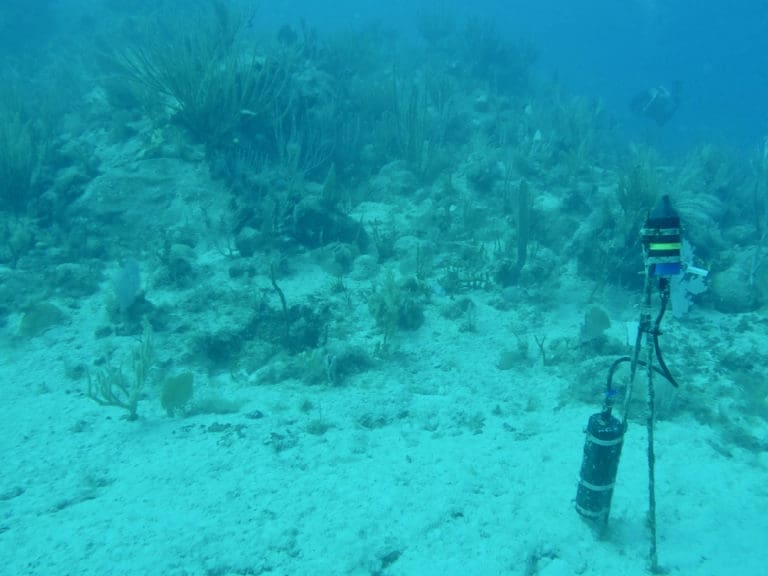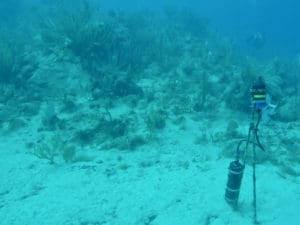 "Snapping shrimp, damsel fish, butterfly fish all make sounds," Mooney continued. "A healthy reef produces lots of sound. We've found here that where there's fewer fish, there's less sound."
Mooney and his team have placed acoustic recorders at 10 sites in the waters around St. John: Ram Head, Tektite, Booby Rock, Yawzi Point, Europa Bay, White Bay, Cocoloba, Ditleff Point, Joel's Shoal, and a control site in sand in Reef Bay.
"This is a big year," Mooney said. "We have a robotics team with us with up to eight students. We're looking for ways to program underwater robots now to search for reefs and to find hotspots of biological activity."
The task now is to teach the robot to think – to distinguish sand from seagrass and live coral from dead coral. Once the robot is able to do this, it can be used to conduct surveys, and if a hotspot of biological activity is found, it can observe what's going on and lead scientists to the site for further research.
The other main project Mooney is pursuing involves ways that marine creatures might use the sounds of a healthy reef. Are fish larvae swimming in the ocean currents attracted to the sounds of a healthy reef? The answer isn't simple, he's discovered. Some fish may prefer to settle at more silent places, like seagrass or sand; although reefs do offer protection, they also afford shelter to predators.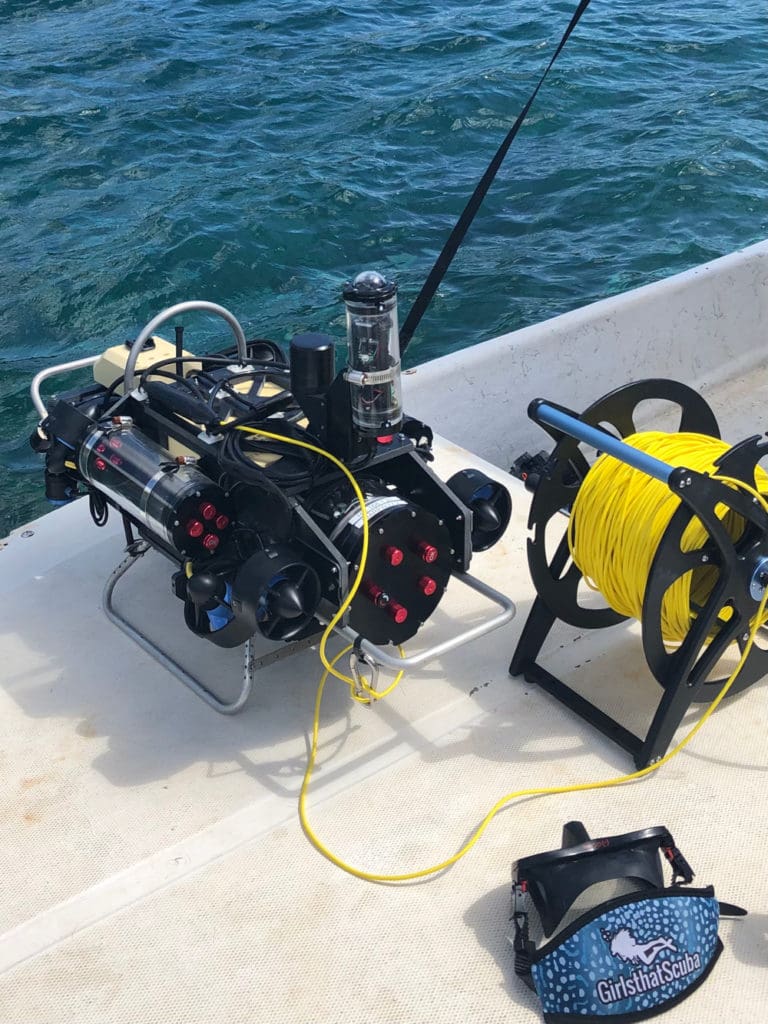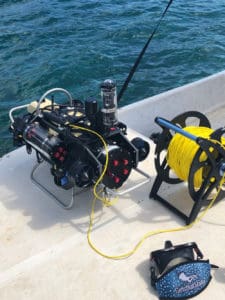 Coral larvae, however, may behave differently. Mooney is now working with scientists from the University of the Virgin Islands who are growing mustard hill coral at VIERS – the Virgin Islands Environmental Research Station – at Lameshur Bay.
At the beginning of his workday, Mooney carefully counts out 100 tiny mustard hill coral larvae – spawned in tanks at VIERS – and places them inside a jar. He also pours in seawater and adds a piece of tile that resembles a surface on which coral larvae like to settle.
Mooney prepares multiple jars in this way, seals them up, and takes them to sites where he's already measured the coral reef sounds. So far, he's found that the larvae in the jars placed near healthy coral reefs are more likely to settle on the tile than the larvae in jars placed near unhealthy reefs.
This indicates that the coral larvae use the sound of a healthy coral reef as a cue when searching for a site to inhabit. Mooney has made sure the larvae aren't using their sense of smell by sealing up the jars. Sound can pass through the jar wall, scent cannot.
More than a dozen scientists and staff members from the Woods Hole Oceanographic Institution have been on St. John these past weeks. Another of their projects involves identifying stress markers that might indicate the onset of Stony Coral Tissue Loss Disease.
Amy Apprill of Woods Hole is collaborating with Marilyn Brandt of UVI and others to search for the cause of the rampaging coral disease.