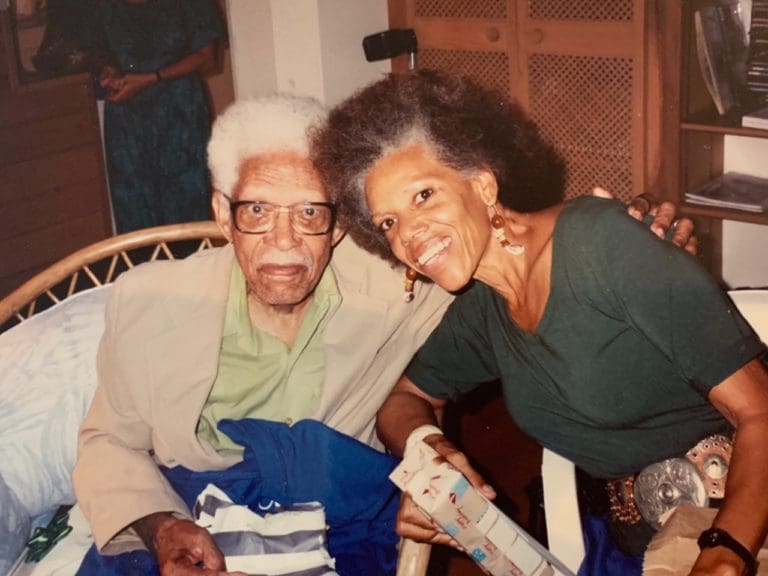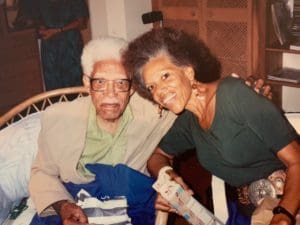 In memory of the late Ogese McKay, his daughter Elisa McKay will show his art along with her own at the Cane Roots Art Gallery in Christiansted beginning Oct. 29.
Both artists are self-taught. The senior McKay was encouraged to begin painting at the age of 90 – previously he had been a musical artist. After the death of his wife, his daughter said art might help him deal with his grief. He was signed up for lessons, and one of his first teachers, Dawn Stewart, said she didn't teach him anything. She gave him the tools and acrylic paint – he got started and kept going.
"Life begins at 90" became his new motto, she said.
Elisa McKay began drawing and sketching as a young girl and as an adult was known for the collage greeting cards she gave to friends. She said she started creating the art cards to relax and unwind after a day teaching English at St. Croix Central High School. Eventually, the cards were sold at several locations on the island. Now, she is creating mixed media art using photos of historic buildings and ruins as the background and collages in African print fabric.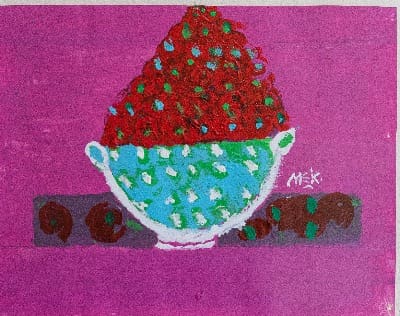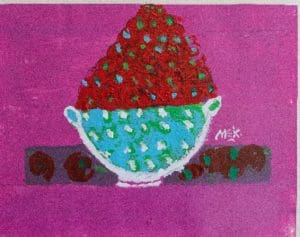 This won't be the first time the art of the McKays has been seen together. In 1994, they were featured in a show hosted by the V.I. Council for the Arts at Reichold Center on St. Thomas. Mr. McKay died shortly after in October 1995, before his 99th birthday. Elisa kept a prior commitment and displayed their art at Country Day School in 1996.
In 2016, Elisa held a show at the Walsh Gallery with reproductions of her father's work and embellished by her own collage images. She called it McKay and McKay, remembering that she and her father talked frequently about having a show together before he passed.
Those pieces will be on display for the month of November at Cane Roots Gallery along with Elisa's new giclee pieces. Ogese McKay's art is not for sale, but Elisa's is.
Elisa's father and mother were both from St. Croix. Three months after Transfer Day in 1917, he enlisted in the Navy and served eight years during WWI and four years during WWII as a Navy musician. After his stint in military service, he worked as a carpenter, furniture refinisher and upholsterer by day and a musician at night.
Elisa was born in Harlem, the youngest of eight children. Her parents moved back to St. Croix in 1962 and she returned in 1978. McKay is also a freelance writer for the Source.
The opening reception on Oct. 29 will be from 5–8 p.m. and the gallery will be open Tuesdays through Saturdays from noon to five until Nov.30 and again on Art Thursday.
Contact Elisa Mckay at Sistahart@earthlink.net or visit her website: Canerootsartgallery.com