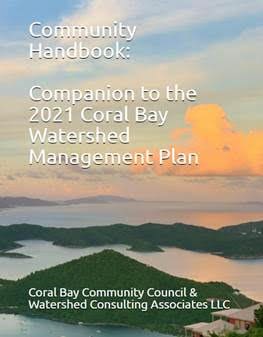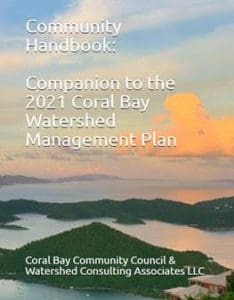 The Coral Bay Community Council recently released its 2021 Coral Bay Watershed Management Plan, which it describes as a detailed 330-page action plan for the next five years. The plan, published electronically and available on their website, is accompanied by a shorter version, a community handbook, that is available online and soon in hard copy for free distribution.
According to a release from the Coral Bay Community Council, the scope of the plan is broader than many watershed plans due to what it says are the unusual characteristics of the remote Coral Bay watershed and the individual responsibilities for stormwater management and clean drinking water and effective wastewater management. The planning started in 2008 and has had funding and participation from the U.S. Environmental Protection Agency, U.S. Department of Agriculture, National Oceanic and Atmospheric Administration, the V.I. government, private organizations and V.I. residents. It has spent more than $4 million over the past 14 years.
The plan is reportedly the result of more than two years of work by Watershed Consulting Associates LLC, the Coral Bay Community Council and others.
In the Coral Bay Community Council release, Volunteer Executive Director Sharon Coldren said, "Thanks to all who participated in shaping this important work through the years. Our community, with the Coral Bay Community Council's facilitation, started this Planning and Action Process in 2008. In its role as the local watershed management agency, CBCC works to be "the glue or the grease to help make effective cooperation happen."
This is the third five-year plan for Coral Bay.
According to the council, stormwater runoff, exposed trash, and failing wastewater treatment systems are the main sources of pollution in the watershed. These potential byproducts of development can be regulated, reversed, or diminished with the active efforts of property owners, residents, business owners, and the government.
"The goal is to prevent the negative impacts of new development and reduce pollution caused by previous development while helping the local economy to thrive. As we collectively learn more and take advantage of new methods and available technologies to manage water resources, Coral Bay will become a healthier community and environment for all," said Rachel McKinley, Environmental Projects manager at CBCC.
This publication and the underlying work are also responsive to the resilience and recovery initiatives after the 2017 hurricanes and incorporate current and future projects and cooperative partnerships, and recognize that Coral Bay is a remote, low population area.
This work was funded by a U.S. Department of Interior grant of $99,000 and a V.I. Department of Planning and Natural Resources Coastal Zone Management grant of $18,000, coupled with $30,000 of CBCC funds from the 400 members of CBCC through their dues and donations, and over $100,000 in volunteer professional time.
The watershed management plan is an update of the 2014 plan and articulates the range of watershed management actions that are recommended for the next five years and beyond.
It focuses on key threats identified by the community: pollution caused by sediment, bacteria and other contaminants, such as solid waste, and the critical need for community facilities, including roads, to replace and upgrade those lost in the 2017 hurricanes, while reducing pollution potential.
The group believes improving the overall water quality in the Coral Bay Watershed will help preserve the bay's threatened marine ecosystems and also protect human health by improving residents' access to safe, clean freshwater for domestic use and clean ocean waters for recreation and fishing.
The plan sets an agenda of actions community members (residents, homeowners, vacation homeowners, business owners and vacant landowners) can take on their own and with their neighbors to protect the waters of Coral Bay. This can be accomplished principally by reducing sediment-laden stormwater runoff on properties and roads, installing and maintaining healthy drinking water and wastewater systems at homes and businesses, properly disposing of waste and participating in collective actions, organizations and cleanups to improve and protect the Coral Bay community and natural environment, including the plentiful coral reef ecosystems along the shorelines.
Both documents can be viewed or downloaded at: Coral Bay 5 Year Watershed Management Plan.