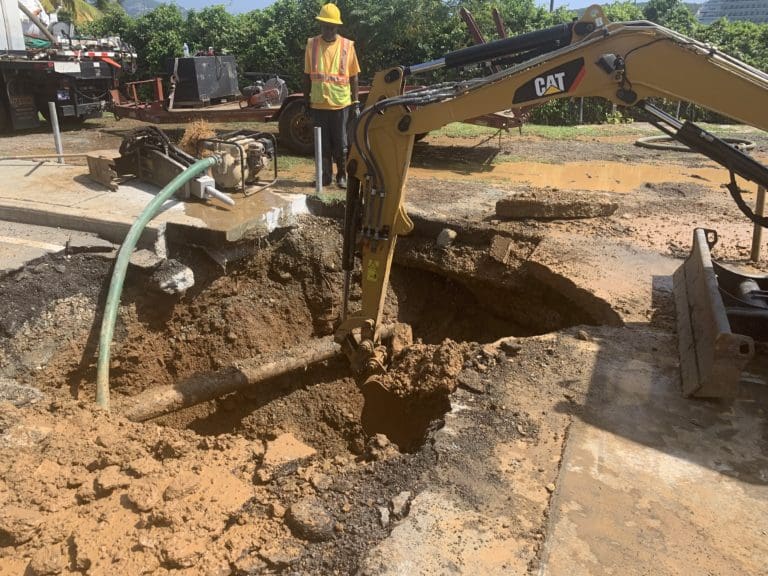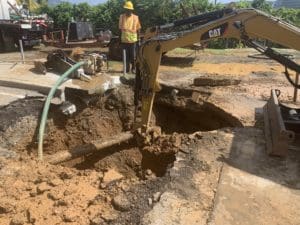 The temporary repair of a leaking water main that closed government offices around downtown St. Thomas on Wednesday was completed earlier Thursday morning and potable water service is being restored to all areas east of Sub Base, including downtown Charlotte Amalie, according to WAPA officials.
The ruptured 24-inch water main, the primary water pipeline to the downtown and outlying areas to include Estate Thomas, Hospital Ground and Long Bay, was the cause of a daylong water service interruption on Wednesday, according to a news release issued by V.I. Water and Power Authority spokesman Jean Greaux Jr. at 5 a.m. Thursday.
"Water Division crews completed repairs and restored service early Thursday. However, shortly after the line was pressurized, another section of the old ductile pipeline became compromised. Crews, which made a temporary patch to the second ruptured section to facilitate water service restoration, will attempt more permanent repairs to the damaged water main later tonight," Greaux said.
"Until all repairs are completed, the main Sub Base roadway will be closed to vehicular traffic. The roadway from the entrance to Crowley Marine is closed and all persons needing to access the Sub Base area must enter and exit from the airport access road near the Emerald Beach Resort," according to the news release.
The water outage closed government offices at the Board of Education, Legislature, Office of Management and Budget, Finance Department, Housing Authority and Magistrate's Division of Superior Court on Wednesday. Those offices are all expected to reopen as normal on Thursday.
Later in the day Wednesday, the utility issued an update saying water operations crews continued work to excavate and repair the busted main. The ruptured line sits some six to seven feet below the roadway surface in Sub Base, according to WAPA officials.
Crews spent several hours excavating the line Wednesday. Until repairs are completed, and the water distribution system is repressurized, customers in the affected areas will experience either significantly reduced water pressure or a complete loss of water service, the utility said.