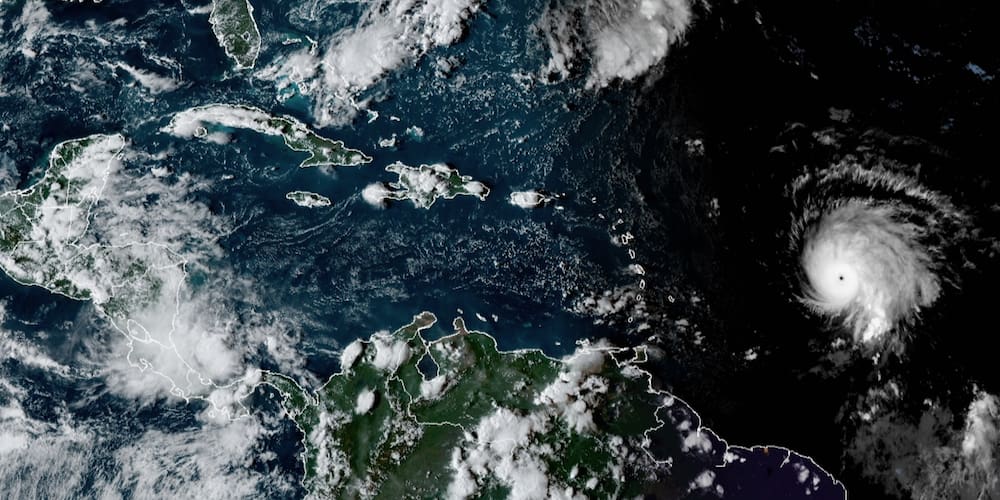 Small but ferocious, Hurricane Sam intensified more Sunday and is expected to remain a major hurricane for several days, according to the National Hurricane Center.
Based on the current projection, Hurricane Sam is expected to make its closest point of approach to the Virgin Islands on Thursday afternoon when the center passes approximately 388 miles northeast of St. Thomas. At that time, Sam is expected to be a Category 3 hurricane with top winds of 125 miles per hour and tracking to the northwest at 12 miles per hour. There is a probability that tropical storm-force winds – winds of 39 miles per hour or greater – will affect St. John from Wednesday night through Thursday morning.
In its 5 p.m. Sunday update, the NHC noted the center of the Category 4 hurricane was some 880 miles east-southeast of the northern Leeward Islands, near 14.2 degrees North, 50.5 degrees West
Top sustained winds have increased to 150 miles per hour and the hurricane is tracking to the northwest at the forward speed of seven miles per hour and a gradual increase in forward speed is expected by midweek. There are no watches or warnings in effect.
Sam remained a small Category 4 hurricane with hurricane-force winds extending outward up to 30 miles from the center and tropical storm-force winds extending outward to 90 miles. Swells generated by Sam are forecast to reach the Lesser Antilles early this week.
A NOAA Hurricane Hunter aircraft was en route Sunday evening to investigate the hurricane and was expected to provide more detailed intensity data Sunday evening and night.
Elsewhere in the Tropics – A tropical wave is expected to move off the west coast of Africa on Monday.
Environmental conditions are expected to be conducive for gradual development thereafter, and a tropical depression could form by midweek while the system moves westward to west-northwestward at 10 to 15 miles per hour over the far eastern tropical Atlantic. There is a medium chance – 60 percent – of tropical weather system formation through five days.