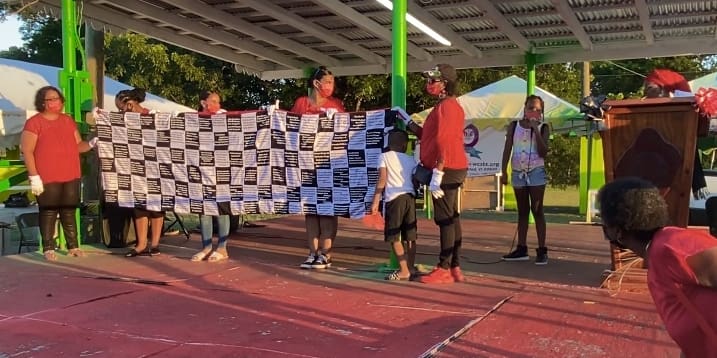 A quilt created in memory of more than 600 victims of homicide on St. Croix since 1999 was presented Saturday at an event celebrating National Day of Remembrance for Murder Victims at the V.I. Department of Agriculture Fairgrounds.
The quilt's creator, Aida Almestica-Franco, and her family brought the quilt to the stage. As they opened it to reveal the long list of victims' names, emotions raced through the fairgrounds, with some family members of the murder victims gasping and others busting into tears.
The event was sponsored by the Women's Coalition of St. Croix, marking the 14th year the National Day of Remembrance for Murder Victims was observed on the island. The annual day of remembrance was established by Congress in 2007 to honor homicide victims and those left to mourn.
Some of the roughly 30 participants taking part wore T-shirts with representations of the loved ones they lost. Others wore red and black in honor of the National Day of Remembrance for murder victims.
Due to COVID-19 restrictions the attendance was limited to 50, but the actual turnout was visibly less, which is common said Clema Lewis, executive director of the Women's Coalition of St. Croix.
"This is my 14th year holding this event and I started it because the event meant a lot to me, but we never get more than the people we see here," Lewis said. "All the pain, the death, and all the crying in the community, where are they?"
Lewis referenced COVID-19, but said the committee was clear on the precautions they were taking to keep everyone safe.
"We've got to find a way to stop the violence and it is going to take the whole community. So, if the violence is coming from your household, we got to start speaking up because I am tired of being here. And I am tired of holding hands and crying with loved ones because we can't come together. Until the top steps up and puts something in place it is never going to stop. I'm talking through the government, all three branches, to the community and private sector. I hope to see the day that it stops," Lewis said.
Also in attendance was Sen. Genevieve Whitaker, who shared some brief words.
"As we mourn nationally in remembrance of this difficult day, we take this time to honor those that we have lost," Whitaker said.
"I take this time to honor those we have lost. When we talk about crime and violence, it has a lot to do with crime and prevention. I just want to take this opportunity to really express to each one of you that I sympathize with you," Whitaker said.
Family members also shared their stories of missing loved ones, with a common note of pain and loss.
"The violence will continue without harmony. The violence will continue if we do not do something, not just say something, not just see it, but you have to do something," said ChenziRa Davis-Kahina. who provided a prayer during the program.
The "Wall of Remembrance" is a visual presentation of the names of murder victims on St. Croix and is available on the National Day of Remembrance for Murder Victims – V.I. Facebook page.
More information is available by contacting the Women's Coalition's main office/crisis center at 340-773-9272 or online at the coalition's website.