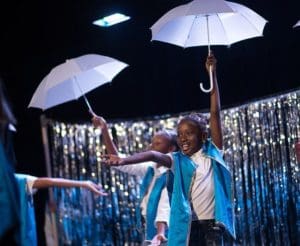 For more than 40 years, the St. John School of the Arts has faithfully followed that old show-biz mantra: "The show must go on." This year, thanks to the generosity of philanthropist Donald Sussman, the community can rely on another full season of arts programming in 2021-2022.
Sussman came to the school's rescue in 2020 when it became clear that the school was facing a financial crisis because of the COVID-19 pandemic. One major source of income – tuition from students attending live classes – was cut to the bone as fees were reduced to make classes more affordable to struggling families. Because so many movement and music classes involved "heavy breathing" and art classes required close collaboration, the school was forced to cancel more than half of its afterschool programs in an effort to halt the spread of the disease.
Another casualty of the pandemic was "Broadway Comes to St. John," the school's annual fundraiser. This program began in 2011 when three master teachers with decades of professional Broadway experience came to work with the 4th-grade students on St. John.
Each year, after three weeks of intense work, the children put on a dazzling show of song and dance that touched hearts and opened wallets. Without "Broadway" as a fundraiser in 2021, the school's financial outlook seemed dire.
Sussman, who had always been the "Super Angel" sponsor of "Broadway Comes to St. John," responded to a call for help in May by providing a $60,000 contribution to fund the school's operations through the upcoming lean months.
The arts are central to creativity and intellectual growth; they are vital to a well-rounded education." said Donald Sussman. "I'm pleased to be able to support this terrific school and its innovative, inspiring programming during an unprecedented time."
With COVID vaccines now reaching much of the population, St. John School of the Arts is optimistic about the 2021-2022 season. "Broadway Comes to St. John" is scheduled to take place on Saturday, Jan. 29, 2022.  The 4th (and 5th) graders of 2021-22 will get their chance to shine in the spotlight.
Sis Frank Concert Series will move from its virtual platform back to live performances in the school's vibrant performance space. The schedule, which includes world-class musicians performing in a variety of genres, is being finalized now.