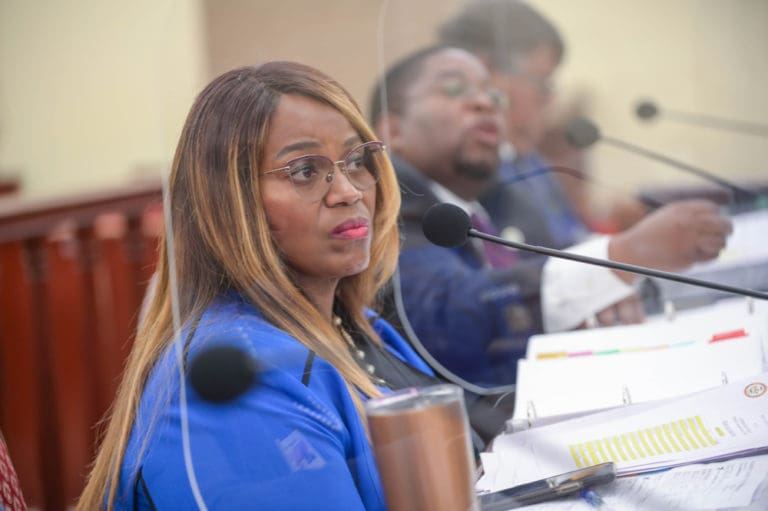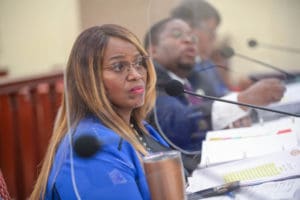 The Bureau of Corrections anticipates a sharp bump up in its budget and hopes to hire more mental health, medical and social work professionals and make progress staffing a big backlog of vacant guard and staff positions, BOC Director Wynnie Testamark told senators during budget hearings Friday.
Corrections runs the John A. Bell Adult Correctional Facility on St. Croix and the Alva A. Swan Annex, a smaller jail on St. Thomas.
The bureau's proposed 2022 budget is $45.8 million, up from $30.8 million last year. Testamark said the bump is less than it appears because Corrections took a 13.5 percent cut for FY 2021 due to the economic impact of COVID-19.
The proposed FY 2022 budget restores funding for 43 correctional officer positions, adds funding for four new case management planners, a transitional case manager, and two social workers.
Testamark said it also focuses on mental health, as Corrections has become one of the largest providers of mental health services in the U.S. Virgin Islands. As has been reported for years, she recounted how people in the territory with a mental illness who are charged with a minor infraction often wind up in jail, sometimes for years, because there is no long-term treatment facility for the mentally ill in the territory.
"Today, roughly 40 percent of all inmates at bureau facilities receive some form of mental health treatment," Testamark said.
The FY 2022 budget provides funding for two psychiatrists and a psychologist.
Large numbers of vacancies have long plagued the agency. Currently, nearly a third of positions remain vacant. For FY 2022, Corrections has 289 budgeted positions of which 177 are filled and 112 are vacant.
Overtime has also long been a problem. Changes to scheduling have apparently helped somewhat. Testamark told senators the bureau has cut overtime expenses by $616,227.50, or 8 percent, compared to the same period last year, and she is hopeful overtime will continue to decline.
"Two recent developments offer encouragement that the bureau's overtime costs will decline over the next fiscal year," she said. "First, the record number of correctional recruits will reinforce our correctional officer ranks. Second, we are hopeful that legislation currently under consideration by this committee to allow retired correctional officers to return to service without incurring a GERS penalty [and], if enacted, will give the bureau a temporary staffing boost while its aggressive recruitment efforts continue."
The FY 2022 budget sets aside $1.5 million for overtime.
In October 2020, FEMA announced that it had awarded the bureau $17.6 million to
completely rebuild the Alva Swan Annex in Subbase, which was destroyed by the hurricanes of 2017. After cost-share and insurance deductions, Corrections will reportedly receive $14.2 million. Corrections is working with the Office of Disaster Recovery on plans for a new 203-bed facility, and Testamark said they hope to finish the design phase this year.
As of June 30, Corrections housed 211 inmates locally – 75 on St. Thomas and 136 on St. Croix. Of the inmates housed locally, 200 are male, and 11 are female. Corrections also houses 148 inmates off-island at facilities in Florida, Virginia, and South Carolina, for 359 prisoners in bureau custody in total.
No votes were taken at the information-gathering budget hearing. Present were: Sens. Novelle Francis Jr., Milton Potter, Kurt Vialet, Carla Joseph, Donna Frett-Gregory, Janelle Sarauw, Franklin Johnson, Samuel Carrión, Dwayne DeGraff, Javan James, Kenneth Gittens and Marvin Blyden. No members were absent.