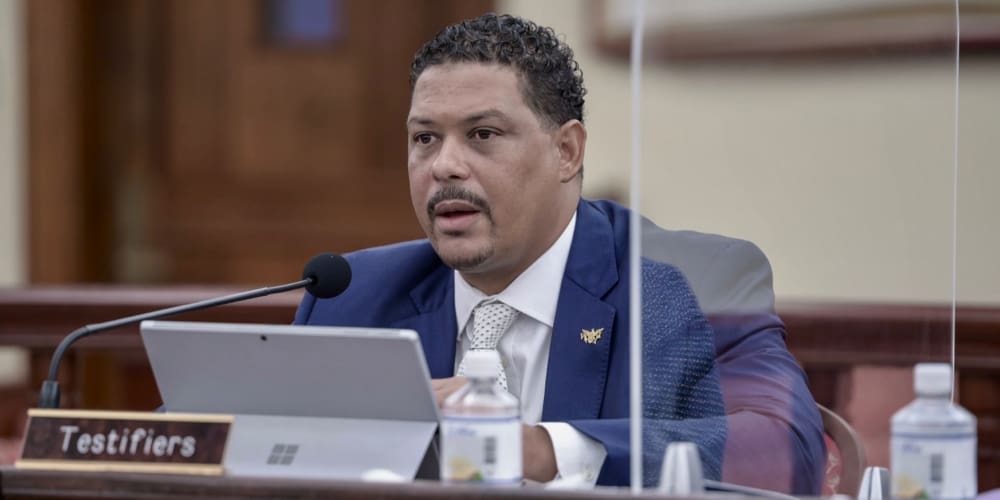 St. Croix's newly built La Reine Fish Market, reopened four months ago after its predecessor closed in 2007 for septic and health issues, is having some of the same septic issues already, and Planning and Natural Resources is working to head off the problem, DPNR Commissioner Jean Pierre Oriol reported to senators Friday.
Opened in 2002 at a cost of $205,000, the fish market was shut down just five years later, in November 2007, after a newspaper report cataloging problems prompted a closer look by the V.I. Health Department. That inspection found poor drainage and plumbing, unsanitary bathrooms and other maintenance problems.
Inspectors found full waste tanks, drains clogged with fish scales and broken restrooms. St. Croix fishermen applauded the closure at the time, with many saying conditions had deteriorated to a point where closing was necessary for repairs. Vandals jammed the drains with crushed beer cans.
It reopened at the end of February with new stalls, drains, ice bins and a new septic system.
During the agency's budget hearing Friday, St. Croix Sen. Novelle Francis asked Oriol if the agency had received any complaints about the market.
"Earlier I mentioned we had to come and pump out the septic," Oriol said. "The volume of waste and water combined, we have a 20,000-gallon holding tank, and it is already full from February. Which means the diffusion is not taking place the way we need it. And we are not taking away the waste, the organic material after it is pulverized and using for those agricultural purposes. So, we can only let it be available for so long, and then afterwards it will have to either make its way into the system for treatment or we find a way to get it taken out physically in order for it to be taken for agricultural purposes."
"So you are creating a mechanism by which you are able to do a regular pump-out if necessary so we don't find ourselves in the same predicament that got us not to be able to utilize the fish market in the past?" Francis asked.
"That is correct. We already have started discussions with the Waste Management Authority about tying into the line and will get a cost on that in short order," Oriol said.
Sen. Milton Potter asked about DPNR's role in recent odor and emission issues at the now-closed Limetree Bay Refinery.
"The perception there was DPNR was … unable to respond to the cries of the residents regarding what they were experiencing," Potter said.
Oriol said all of DPNR's air quality inspectors were on St. Croix, but there is a lack of regulatory authority over smells.
"One of the biggest issues that took place from a regulatory perspective, is that the issue was the odor. But there is no air quality standard for the odor," Oriol said. He said the U.S. Environmental Protection Agency took action related to the refinery's fire and oil spray, "but people wanted DPNR to shut down the refinery for the odor, but there was no regulatory violation."
"Nothing was coming up on the recordings of the equipment violating air quality standards," he said.
"If we can create a standard for odor we would have greater standing and authority for an odor like that," Oriol said.
DPNR may not be the biggest agency by budget, but it is the most sprawling in its mission, with responsibility for environmental enforcement, trade board certifications, environmental enforcement, fishing and wildlife, libraries and archives and more.
DPNR has a total recommended budget for fiscal year 2022 of $27.9 million, of which $10.4 million is from local government appropriations. That local funding is about 28 percent more than the current FY 2021 appropriation of $7.5 million. The rest of the budget comes from $4.9 million in non-appropriated funds like fees for permits and inspections; and $12.6 million in federal funding.
For FY 2023, the agency anticipates a similar total of about $28 million, with similar local and federal funding levels.
For FY 2022, the local appropriated budget for the department is divided as follows:
– Executive Office $926,847; 8.89 percent.
– Business and Administrative Services $1,547,759; 14.84 percent.
– Environmental Enforcement $124,267; 1.19 percent.
– Permits $1,235,926; 11.85 percent.
– Libraries, Archives and Museums; $2,953,816; 28.33 percent.
– State Historic Preservation Office; $356,764; 3.42 percent.
– Environmental Protection $2,870,190; 27.53 percent.
– V.I. Council on the Arts $411,844; 3.95 percent.
Present for Friday's hearing were: Sens. Francis, Potter, Kurt Vialet, Carla Joseph, Donna Frett-Gregory, Janelle Sarauw, Franklin Johnson, Samuel Carrión, Dwayne DeGraff, Javan James, Kenneth Gittens and Marvin Blyden. No members were absent.