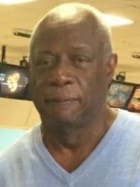 It is with profound and heartfelt sadness that the family of Austin L.D. Andrews regrettably announce his passing on June 18 from health complications. He transitioned peacefully at home on St. Thomas, U.S. Virgin Islands, surrounded by his loyal and loving family and close friends. Austin L.D. Andrews was an amazing, beloved father, uncle, brother, grandfather, nephew, cousin and friend.
He was preceded in death by his father, Carl E. Andrews; mother, Emelda Dowe Andrews Sylvester; uncles: Emilio Encarnacion, Gustav Andrews and Henry A. Dowe; aunts: Belencita Abbott and Zida Goldring; brothers: Roy and Kenneth Andrews; and sister, Myrtle Andrews Lang.
He is survived by his daughter, Michelle L. Andrews; niece, Arienne J. Lang; brother and best friend of 70+ years, Roy A. Rodgers; daughter, Dominique Andrews; sons: Austin Andrews Jr. and Cai'Jonte Andrews; special nephews: Robert L. Lang and Qeion O.L. Boynes; brothers: Carl E. Andrews Jr., Clifford E. Andrews, Daniel Andrews, St. Clair Andrews, Andre Andrews and Alexis Andrews; sisters: Arleen A. Rice, Myrna Koyi, Annette A. Gonzalez, Patricia Andrews-Pierre, Carla A. Andrews, Andrea Andrews Fredericks, Carla E. Andrews and Lucinda Pemberton; grandchildren: Aneesa Andrews, Amiya Andrews, and Aaliyah and Adanya Andrews; uncles: Raymond Dowe and James Dowe; and aunts: Irma George and Cleopatra Donadelle.
He is also survived by cousins: Carlton (Ital) Dowe, Jewel Harrigan, Erna I. Williams, Valerie Johnson, Alicia Guiler, Denise Acosta, Carol Dowe-Wooding, Maryon and Ira Dowe, Barencia Maduro, Carol Samuel, Allen George, Ashanti George, Vern and Velma George, Berenice Cline, Floyd Smalls, Noel Myers, Cheryl Stevens, Gail Dowe, Alphonse Berne, Julie George, Melba and Lester Donadelle, and Felicita Donastorg.
More survivors include the Williams/Brannigan lineage, which includes the Andrews family, Dowe family, Abbott family, Ballantine family, Encarnacion family, Hector family, Schuster family, Russel family, Seales family and the Thomas family; close friends: Douglas M. Williams, Victor C. Garfield, Weston Phillips Jr., David H. Jackson, General Robert L. Moorehead, General Claude McBean, Paul J. Arnold and Alfred Williams; brothers-in-law: Carlisle Rice, Rafael Gonzalez Sr. and Jornas Pierre; sister-in-law, Charlene Andrews; nephews: Carlisle Rice Jr., Clifford "CJ" Andrews Jr., Rafael Gonzalez Jr., Ronaldo Gonzalez, Rolando Gonzalez, Jornas Pierre Jr., Craig Daly and Jerome Christian.
Other survivors include his nieces: Adrienne Rice, Christina Rice, Carli LaCroix Andrews, Alicia "Ali" Andrews, Emesha James, Olajide Koyi, Oyinade Koyi, Mela Christian and Lynette Quetel; other special family and friends; Hilma Ovesen Andrews Booth, Marie Schuster, Natalie Ballantine Scott, Rhea R. Stevens, Carmen Williams, Daisy Carino, Henry Thomas, Muriel Lettsome, Dean C. Plaskett, Clarice C.C. O'Connor, Cheryl P. Charleswell, Beverly and Ann Williams, Karole Ovesen-McGregor, Margaret F. Acosta, Marc A. Biggs and Rupert O. Ross; as well as other relatives and friends too numerous to mention.
The family of Austin L.D. Andrews respectfully requests the honor of your presence for a homegoing celebration of a life well-lived and enjoyed to the fullest.
On St. Thomas, a Memorial Service will be held at 10 a.m., Friday, July 2, at the Frederick Evangelical Lutheran Church in Charlotte Amalie.
On St. Croix, a viewing and funeral service will be held on Monday, July 5, at the Lord God of Sabaoth Lutheran Church in Christiansted, commencing at 10 a.m. Interment will follow at Kingshill Cemetery.
Due to the COVID-19 global pandemic and public health regulations, all attendees must wear a mask and adhere to social distancing.