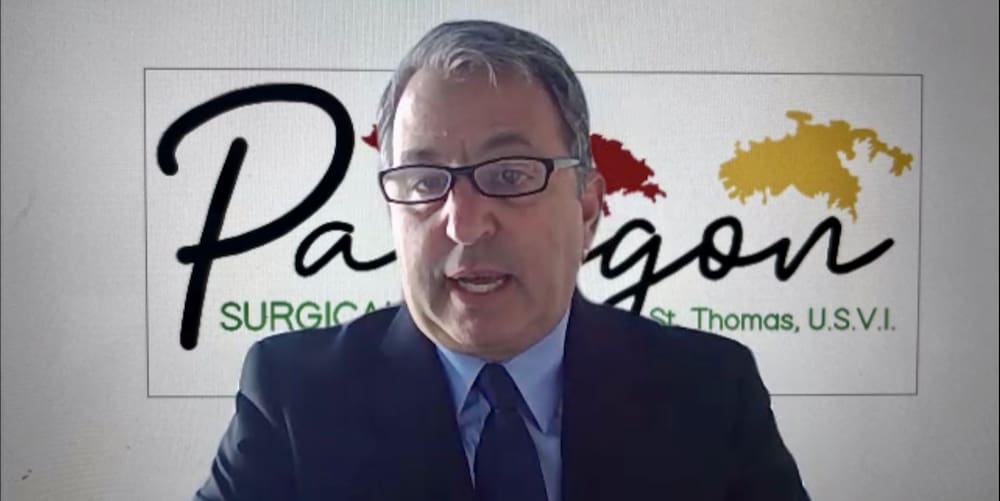 The attorney representing Paragon Surgical Center on Tuesday told the Economic Development Authority board that the company, an ambulatory surgery center, can provide an alternative to the lack of surgical facilities in the U.S. Virgin Islands.
Attorney Erika Kellerhals presented the company's application for EDA benefits to the board during a virtual meeting Tuesday.
"With respect to lack of surgical facilities, many Virgin Islanders choose to go off island for surgical care, and this has been well documented in various Virgin Islands government studies," Kellerhals said. "Paragon offers a direct solution to these issues … the facility is modern and comforting, and the costs are known up front."
Paragon owners Dr. Jeffrey Chase and Dr. Raymond Cintron have a combined 40 years of experience practicing medicine in the Virgin Islands. Paragon Surgical Center LLC is a St. Thomas ambulatory surgery center, a healthcare facility performing outpatient surgical procedures that do not require an overnight hospital stay.
"We can use our facility and its resources to enhance the economic development of the Virgin Islands while simultaneously providing quality outpatient care in an efficient and cost-effective setting for patients and surgeons who use the facility," said Chase.
The facility was created in 2018 and began its first surgeries in July 2020. It was certified by the Centers for Medicare and Medicaid Services in April 2021.
Chase said Paragon will enhance the economic development of the Virgin Islands by increasing the number of patients that stay on island for surgery. This will increase the number of surgeries a physician can perform in a day and attract patients who are looking for a place to have their surgery, provide job opportunities to both general and skilled individuals, and provide training for those wishing to work in a medical profession by way of a planned partnership with the University of the Virgin Islands.
"We designed the facility, including the operating room and the procedure room, as state-of-the-art, with large screens in both rooms for teaching purposes," Cintron said.
Chase said the availability of healthcare facilities is an important issue for the local economy.
"It is critical to the economic development of the Virgin Islands that we keep our seniors here and attract seniors to retire here. I have seen over the course of my 20-plus years here many people, including my in-laws and friends with families, moving away from the Virgin Islands due to the lack of health care infrastructure," Chase said.
Currently, Paragon's sole source of revenue is the facility fees charged to the patient.
"It was essential to our mission to get certified by the Centers for Medicare and Medicaid Services because it allows us to treat patients covered under the Medicare and Medicaid and Veterans Administration program," Chase said. "However, in these federal programs, it is continually decreasing the facility fee reimbursement to the point where some of the surgeries we actually lose money for the facility or hospital when all costs are factored in."
Chase said that during the early days of the pandemic Paragon treated several patients with Medicare and Medicaid, knowing that they were more than likely not going to receive reimbursement because they were not certified due to pandemic delays.
"These patients would have lost their eyesight had they not had their surgeries," Chase said.
The patients had their surgeries and are doing well.
The facility also serves as a backup not only for the Schneider Regional Medical Center, but also to the public health infrastructure as well. Chase said the Centers for Medicare and Medicaid Services requires hospitals to have backups.
"We are an alternate source for both and have provided sterilization services and invested in having additional equipment to be an overflow facility if additional ventilator capacity was needed during the pandemic or future emergencies. We can continue to make these investments with the EDC benefits we receive," said Chase.
Asked by board member Haldane Davies what Paragon's areas of specializations are, Chase responded, "The center is really open to any surgeon that wants to operate there. They have to obviously go through the credentials process, but anybody who is really licensed will probably be able to get credentials. Right now, we do orthopedic surgery, pain management, GI endoscopy, ophthalmology, ear, throat and nose doctors, plastic surgery, skin care type surgeries."
Cintron added, "We also have a cardiologist that is going to start doing certain procedures to monitor and evaluate the heart, and that is also going to be able to be done at our facility."
If approved for benefits, Paragon will employ a minimum of 10 full-time employees within the first year: an administrator, registered nurses, surgical technicians and assistants, patient care coordinators, financial counselors, and administrative staff. All full-time employees will receive 100 percent employer-paid health and dental after 90 days of employment, and dependents will be able to participate in these plans. All full-time employees will be enrolled in a 401K or similar retirement investment plan. The center will provide training and career advancement opportunities. Support to nonprofit organizations will include a minimum of $25,000 per year to local charities in addition to $3,000 to the territorial scholarship fund and $2,500 to the V.I. Department of Labor.
The board will decide on the application at a later meeting.