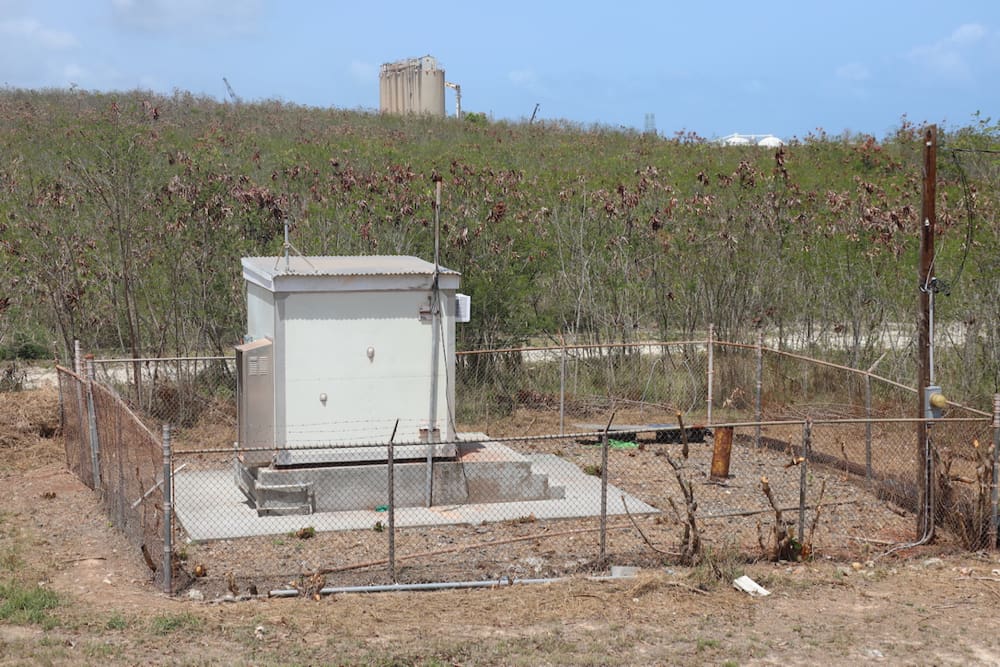 Noxious odors previously associated with flaring incidents at Limetree Bay Refinery were reported again Friday morning by St. Croix residents from Estate Profit to Williams Delight.
The complaints call into question the V.I. government's theory that an open manhole was the source of most residents' odor complaints because the manhole was covered on Monday.
Some eight callers to a Reef 103.5 Friday talk show said they smelled the odors between 11:30 p.m. Thursday night into the wee hours of Friday morning, while the Department of Health received a call between 3 and 4 a.m., according to the Department of Planning and Natural Resources.
Recurring continuously since April, the odors have become a bone of contention between Limetree, the Virgin Islands government, residents involved in three class-action lawsuits, and the U.S Environmental Protection Agency, which ordered the refinery to shut down for 60 days after its main flare erupted in flames and lofted oil onto downwind neighborhoods from Estate Profit to Frederiksted.
Although refining has ceased, Limetree continues to clear its lines of residue, a DPNR spokesman said. Flaring, experts say, is an expected part of the process. A caller to EPA's emergency response team reported loud sounds from the facility Thursday night that could have been flaring, team member Zeno Bain said.
"I don't think these people are imagining things," said Eric Douglas, a chemical and environmental engineer on St. Croix. "There is a pattern there of what I call planned or controlled flaring, to purge the vessels of the existing vapors. Since the shutdown, Limetree has been flaring the gases at night when they will be the least noticeable."
But that has ended, according to an email from Limetree spokeswoman Erica Parsons, at least for the most problematic flare, No. 8:
"The flare is currently blinded, which means the flame is shut off and there is a physical barrier preventing fuel or any gases from getting to the flare," Parsons said in an email. This is done for the safety of the workers who will be inspecting and, if necessary, making repairs to the flare. Limetree has not conducted any activities that would produce a flare or odor from our refining or terminal operations. Additionally, Limetree did not receive any odor or flare complaint calls from last night."
Asked if this applies to all of Limetree's flares – it has many, Douglas said – Parsons had not responded by late Friday.
Overnight refinery emissions have been the source of sickening odors on April 23, according to Limetree, and on May 5, according to the EPA. As recently as May 20, Limetree reported to the EPA that it had a hydrogen sulfide (H2S) exceedance at the No. 8 flare. On that day, the federal agency received 22 calls to its hotline complaining of odors from residents in Frederiksted, La Grange, Two Williams and Enfield Green.
Limetree denied its operations were the cause of the May odor complaints, however, and Gov. Albert Bryan Jr., during his weekly news briefing May 18, went to great lengths to widen the net of possible suspects.
Since then – and as recently as early Friday morning when odor complaints resumed – EPA air quality sensors installed around the refinery have detected elevated levels of hydrogen sulfide (H2S) at one location in particular, Monitoring Station 1, adjacent to a drag racing facility across the road from Henry E. Rohlsen Airport.
On May 21, the governor thought he had found the cause of the odors when an open manhole was discovered nearby. Lowering a sensor into the manhole, the EPA found elevated H2S.
On May 24, the governor announced the manhole was closed and complaints appeared to stop.
But in the early hours of Thursday, Monitoring Station 1 again recorded levels of H2S above Tier 1 and Tier 2 target levels set by the EPA in concert with its federal partner in health, the Agency for Toxic Substances and Disease Registry.
Again on Friday at around 3:40 a.m., Monitor Station 1 exceeded the Tier 1 action level.
A Tier 1 exceedance means that greater than 50 percent of the St. Croix population may be expected to experience odors.
A Tier 2 exceedance means residents should be advised to shelter in place to reduce their exposure, especially children, the disabled and elderly.
The EPA notified the V.I. government of Thursday's findings so it can alert residents through its health department or Territorial Emergency Management Agency.
As far as the Source was able to learn by late Friday, no health department or VITEMA alerts had been issued Thursday or Friday.