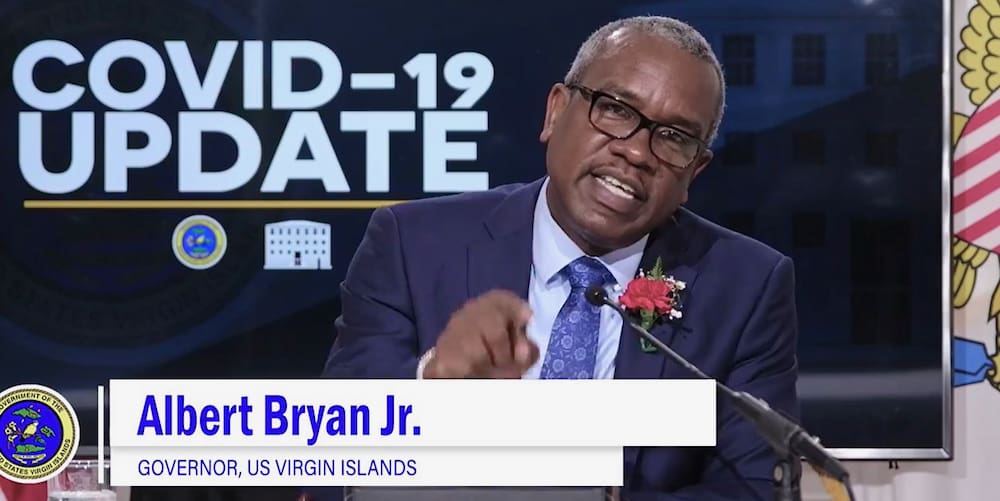 While the Centers for Disease Control has announced new guidelines for fully vaccinated individuals – in particular, that they can forego wearing masks in many public situations – Gov. Albert Bryan Jr. made clear on Monday that the territory, at this point, isn't buying in.
"We were the first, and we will probably be the last," Bryan said during his weekly press briefing, referring to the local mask-wearing mandate that has been in place for at least a year. In conversations around the community, Bryan said residents have indicated they don't have an issue with continuing to wear masks.
Some media on Monday focused on whether local businesses would have difficulty enforcing the rule now that the new guidelines are out, making sure people who are not vaccinated continue wearing masks, Bryan said the government isn't "going to let people come from where they come from and spread COVID."
"I don't care what the CDC says. We want to make sure that we tell people let's keep doing the things that have helped make us safe," he said.
The primary issue, Bryan said, is that in issuing the new guidelines the CDC didn't specify how states, territories and individual governments would enforce them.
"There is no visible distinction between those who are vaccinated and those who are not," he said. "It is impossible to manage and to enforce. We know that wearing masks is effective. Removing those requirements and simply relying on the honor policy at this point is not something we think will protect our community against the spread of the virus."
Meanwhile, Bryan said the territory still has "a long way to go" in achieving herd immunity, as about 49 percent of the local population eligible to receive the COVID vaccine has taken the first dose – even less, he added, for the second dose. And, even if the goal to vaccinate 50,000 residents by July 1 is achieved, more will still be needed for some of the basic restrictions – mask-wearing and social distancing – to be relaxed.
"We cannot afford to take any steps backward," Bryan said. "We have to maintain doing the things we know works."
At this point, more than a year since the pandemic was declared, the territory has administered 109,039 tests, of which 105,769 were negative and 3,270 positive. There are 63 active cases being tracked – four on St. Croix, 52 on St. Thomas and seven on St. John – including two patients at the Schneider Regional Medical Center who are not vented. The numbers bring the territory's weekly COVID positivity rate down from a high last week of 3.3 percent to 1.5 percent.
On the vaccination front, 39,172 first doses of the COVID-19 vaccine have been administered, along with 30,109 second doses, putting the territory 10,829 first doses away from the July 1 goal. Territorial epidemiologist Dr. Esther Ellis said the reach has expanded with 12-15-year-olds now eligible to take the Pfizer vaccine, citing 100 percent efficacy in trials. Ellis said among the overall positive cases, almost 400 were children ages 0-17.
She also added that a "major temperature excursion" at the University of the Virgin Islands St. Thomas campus, where a stock of the Pfizer vaccine is stored, affected 1,750 doses, rendering them unusable. The doses were discarded, a new order was placed and there was no interruption in service, though Ellis said Health is working on putting a temperature plan in place to ensure the situation doesn't happen again.
Limetree Shutdown
In response to questions Monday about a persistent noxious odor on St. Croix, Bryan said the Department of Planning and Natural Resources, Environmental Protection Agency and other officials are still actively working to find the source. Though Limetree Bay Terminals, the St. Croix refinery, has shut down production for about a week, Bryan said complaints are still being logged by residents.
Asked whether DPNR has the ability to adequately monitor the refinery, Bryan said Limetree is currently about a third the size of its predecessor, Hovensa, which was continuously monitored by DPNR and EPA.
"We are going to continue to actively monitor it," the governor added. "I think that we have the right things in place. We have two EPA sites for air monitoring now in operation and another to get up as we speak, so we can see what the issue is."
While Bryan said he didn't want to lay blame or point fingers until there is a verified source, he did say the refinery agreed to shut down last week, leaving open the possibility of something else in the area.
"We have looked at every industrial facility, we've looked at whether something was burned illegally in the area, we are looking at every possibility," he said. "The first priority is to figure out where the problem is coming from."
But the EPA announced Monday morning that its testing equipment registered an excessive level of hydrogen sulfide coming from the refinery after Limetree was ordered to cease operations for 60 days. Video taken after the shutdown was ordered shows flares burning off from the refinery.
RELATED LINK
EPA Says Limetree Bay Emissions Continue After Shutdown