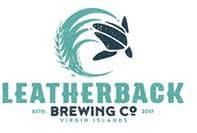 Leatherback Brewing Company, a Virgin Islands based craft beer production brewery, has announced its newest beer project in continued support of positive community work in the Virgin Islands. Managing partners Aaron Hutchins and Packy Gilbert are excited to collaborate directly with numerous sea turtle conservation initiatives based in the USVI.
"It's no coincidence that our namesake is a leatherback sea turtle. These ancient and majestic creatures are born on Virgin Islands beaches, travel great distances across oceans and always come back to nest on our beaches,"  Hutchins said. "They have been doing this for millennia, long before humans came to the Caribbean, and it's really special that we have them in our lives and that we have a globally significant legacy of sea turtle science and conservation work in the Virgin Islands."
Leatherback Brewing Company strives to deeply engage the community in creative ways that align with its brand values. This weekend is World Turtle Day (May 23), and June 16 is World Sea Turtle Day.
In celebration of this and to help raise awareness on the conservation issues and support for the community of locally operating science and stewardship organizations, Leatherback Brewing invites the public to join the first 'hatchling release' on Saturday, May 22, at both the Leatherback Brewing Company's St. Thomas and St. Croix Tasting Rooms. These are family-friendly events and will follow all current COVID-19 operating precautions. Doors will open at noon.
The Hatchling Release Series is developed and brewed at the St. Thomas innovation brewery and the St. Croix production brewery and available only in the Tasting Rooms at Havensight Plaza on St. Thomas and the Industrial Park on St. Croix. The series launch events will regularly showcase and provide financial support for the V.I. organizations of educators, scientists, conservationists and sea turtle enthusiasts while providing public outreach and engagement opportunities.
The St. Thomas Sea Turtle Project will be on-site at the St. Thomas Tasting Room with DJ Niko spinning tunes at 6 p.m. The St. Croix Sea Turtle Project will be on-site in the St. Croix Tasting Room from noon to 6 p.m. with live music by Lady Friend.
Both of these projects participate in the Virgin Islands Sea Turtle Assistance and Rescue organization, and a portion of the proceeds will go to these organizations.