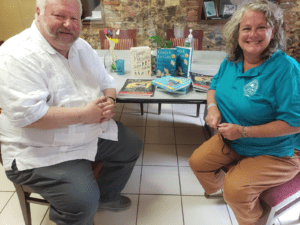 In conjunction with Houghton Mifflin Harcourt Publishers, The Hebrew Congregation of St. Thomas has generously donated over 100 books to the Family Resource Center to be distributed to its clients. The Jewish community has been called the "People of the Book," and this partnership reaffirms the dedicated commitment to the health of the St. Thomas community.
These books were specially selected for young readers, young adults and older adult clients with an emphasis on characters and cultural narratives relevant to the community of St. Thomas.
Reading books together can develop warm and crucial emotional bonds between adults and the children in their care. Reading helps children and adults to open up, to move beyond self-absorption and connect to other people because it widens consciousness as they give us new ways to think and new ideas.
Books show the reader the inner workings of multiple perspectives and let the reader know there are a variety of ways to interact with the world. When a child or adult picks up a book to read, they are building connections while broadening their ability to empathize.
Books help us to become more compassionate. So much time has been spent in front of screens lately, The Hebrew Congregation is excited to offer a universal resource that builds communication and coping skills while strengthening the family bonds.
Because of the importance of reading across the life span, Family Resource Center is pleased to be able to have one more tool to utilize as it helps families rebuild following family violence and trauma. It is in conjunction with other community organizations that the congregation can help build a better future for the citizens of the Virgin Islands.
For more information about this project, email Cacki Barrett, child/family therapist, at frccackib@gmail.com or call 776-3966.
Family Resource Center Inc. is a non-profit, victim service agency serving victims of domestic violence, child abuse, sexual assault, human trafficking, rape and other violent crimes. In addition to community outreach, it offers counseling, emergency shelter, court advocacy for clients and their families at no cost to them. To learn more, contact FRC at 776-3966 or frcinformation2317@gmail.com.