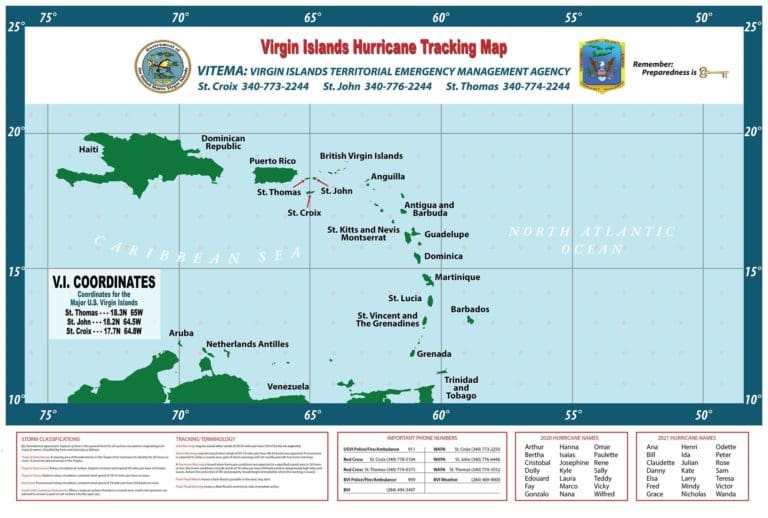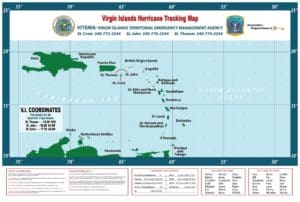 Beginning May 10, the Virgin Islands Territorial Emergency Management Agency (VITEMA) will be distributing 6,000 free Hurricane Tracking Maps for use by the public, on all four U.S. Virgin Islands. This is the 11th year VITEMA has provided this service in observance of National Hurricane Preparedness Week, which runs from May 9-15.
The paper maps are an excellent tracking tool to monitor approaching storm systems and their proximity to the USVI. As with any major storm related event, VITEMA will provide daily updates on multiple social media platforms as well as the VITEMA website at www.vitema.vi.gov as to a storm's location.
Hurricane tracking maps may be found at the following locations:
Both Districts
Plaza Extra
Pueblo
Cost-u-Less
Home Depot
Office Max
VITEMA
St. Thomas
Gottlieb Serve Station
Racetrack Gas Station (Bovoni)
Racetrack Gas Station (8th Street)
Sea Chest
Food Center
Lone Eagle Superette
Gasworks Gas Station
E & M Grocery (Northside)
The Market
Happy View Market
T's Restaurant
Moe's (Red Hook)
Moe's (Waterfront)
St. John
Starfish Market (Cruz Bay)
Dolphin Market (Coral Bay)
E & C Service Station (Cruz Bay)
Pine Peace Market (Cruz Bay)
St. John Hardware
Connections East/West
Paradise Lumber and Hardware
Midway Supermarket
St. Croix
Ziggy's Island Market, LLC
East Way Service Station & Mini Mart
Welco Service Station
Expressway Supermarket
Seaside Supermarket
Gallows Bay Ferry Dock
Bentick's Liquor
Jiffy Mart
J&W Grocery
Bi-Rite Supermarket
Econo Market
Pueblo Golden Rock
One Love Golden Rock
Gmaxx Service Station
Puma Golden Rock
Five Corners Service Station
Food Town Supermarket
Gas City Service Station
Rite-Way Service Station
Cost-U-Less Supermarket
Plaza Extra East
Falcon Service StationSion Farm Mini Mart
Gasaway Service Station
Catherine's Rest Grocery
Gateway
Big A Sion Farm
Puma Sunny
Super Tanks Service Station
Gas for less Service Station
Alleyne's Grocery
Morgan's
Pueblo La Riene Supermarket
A&H Service Station
Basic Grocery
Sam's Service Station
Moe's Service Station
Henry E. Rholsen Airport
The Market
Quick Serve Service Station
Consumer Service Station
Empire Service Station
Caribbean Grocery
Queen B Grocery
Level Up Service Station
Carlton Service Station
Freedom City Gas Station
Supersave Grocery Store
Armstrong's Ice cream
Amigo's Service Station
Stop and Shop Supermarket
Mr. Cheap Liquor Store
Target Gas Station
One Love West
H&R Mini Mart
Water Island
WI-Mart (Ferry Dock)
For more information, go to www.vitema.vi.gov and if there are any questions or concerns, contact VITEMA via email at contact@vitema.vi.gov or call VITEMA on St. Croix: 340-773-2244; St. John: 340-776-2244; or St. Thomas: 340-774-2244
Make Plans, Be Prepared and Stay Informed!