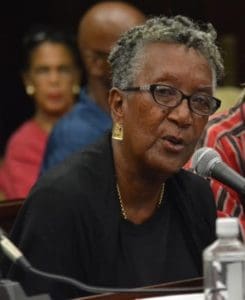 I was excited to learn of the selection of the new executive director to lead the Virgin Islands Board of Education. The Board's choice of Stephanie Berry, Ph.D., to serve as the organization's new executive director is to be commended.
Dr. Stephanie Berry joins the Virgin Islands Board of Education with more than 15 years of experience working in public and private sectors. Prior to accepting this position, she was the director of administration for the VI Housing Authority. She is originally from St. Croix and has experience in both government and private business. Her background includes serving as an advisor to executive teams [and] leading and providing oversight in areas to include human resources, procurement, information technology, administrative services and accounting. Stephanie has a Ph.D. in Psychology from Capella University with a specialization in industrial-organizational psychology. She also holds an undergraduate degree in business administration and two masters, one in public administration and the other in education, with a concentration in curriculum and instruction.
She holds several certifications in areas to include HR and public management, and she is an advanced certified paralegal. Stephanie is focused on operations improvement and capacity building for a diverse population of employees.
Dr. Berry continues to be an important part of improving operations at the Virgin Islands Board of Education. She began work for the Board in 2010, was my special advisor in 2016 while I was the Board's chairperson, and she has demonstrated her commitment to public service by returning again to serve.
Stephanie's experience and education will be a great asset to the Virgin Islands Board of Education. I congratulate Dr. Berry on her recent appointment.
Mary L. Moorhead