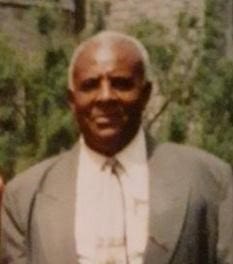 Iva Thomas Brown, also known as "Yancoo," of Estate Barren Spot died on April 13. He was 79 years old.
He was preceded in death by his mother, Florence Lewis; father, George Brown; daughter, Yolanda Brown; son, Dale Brown; sister, Patricia Brown; and brothers: Reggie Brown and Esmond Brown
He is survived by his wife, Isilma Brown; daughters: Cordelia Brown, Shamane Julienne and Shamella Brown; son, Dave Brown; grandchildren: Danella Kirby, Shanayah Julienne, Raykia Rissing, Raynia Rissing, Wrayna Julienne, Jamesen John and N'Kai Brown; and sisters: Gertrude Powell, Pearline Sargeant, Rosita Daniel, Gloria Rogers, Vanetta Brown, Gene Jackson and Eunie Brown;
He is also survived by nieces: Hazel, Dawn, Patsy, Agnes, Susy, Janice, Ingrid F., Alicia, Ingrid R., Stacy, Jenine, Shorna, Tawanda, Susan, Lydia, Lisa, Sonia, Ardyce, Vida, Francina, Garilyn, Brenda and Belinda; nephews: Howard, Eustace, Robert, Thomas, Sylvester, St. Clair, Edred, Anthony and Rudy; son-in-law, Wayne Julienne; and brothers-in-law: Calvin Pinney, Norris Pinney, Nelson Pinney, Edmund Pinney and Carlton Pinney.
Other survivors include sister-in-law, Calmeta Pinney; special friends: Mary Tuitt and family, Martin family, Ann Williams and family, St. Rose family, Diana, Aida and family, Ms. Highland, Nat, Watson, Aubrey Liburd and family, Claudette, Alex Brown, Smalls, Glenn Swanston and Lynette Brown; cousin, Dennis Lewis; as well as other relatives and friends too numerous to mention.
The viewing will take place at 9 a.m. followed by a funeral service at 10 a.m., Thursday, May 6, at St. Luke A.M.E. Church. Interment will be at Kingshill Cemetery.
Due to the COVID-19 pandemic and public health regulations, all attendees must wear a mask and adhere to social distancing.