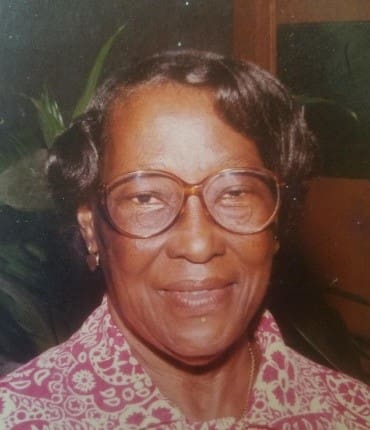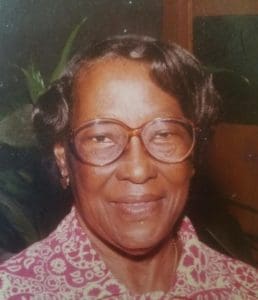 Leola Francisca John Carroll of La Grande Princesse, St. Croix, USVI, was born to Elijah John and Amelia David on April 2, 1919 and died on April 9. She married Eric Carroll and two sons were born of that union.
Leola was preceded in death by her mother, Amelia David Williams; father, Elijah John; husband, Eric Carrol; and siblings: Julien, Olive and Melvin Williams, and Juliana Henneman.
She leaves to mourn her sons: Inslee Carroll I and Mario Carroll; daughter-in-law, Diane E. Carroll; grandchildren: Allan, Diane Monique, Andrea, Denise, Richard, Rodney, Inslee II, Danette, Ray, Irmalee, Donna and Demaris Carroll; and many great and great-great grandchildren.
She also leaves to cherish her memory brothers: Lauren Williams and Thomas Williams Sr.; numerous nieces, nephews, great nieces and great nephews; godchildren: Janine Hector, Lyra Greene and Reuben Turner; cousins: the Hewitts, descendants of Felecita Garcia, descendants of Helena Vialet, the Boyce family, Ruth Lang and family, and the Johannes family; special first cousin, Ellen Arttaway; close friends: Violet Connor, Lenita (Lee) Ford, Daphne Andrews, Winston Nurse, Ferrynesia (Ferry) Benjamin, Jane Henry and Carlotta Moorhead (Leola always referred to Carlotta as the daughter she never had); friends: Bethel AME Church family, Lorna Davis, Corine Barnes, Anna and Jacqueline Gordon, and many others; very special friend, Josephine (Jo) Hector; as well as other relatives and friends too numerous to mention.
The viewing will be held at 9 a.m. followed by a funeral service at 10 a.m., Thursday, April 29, at Bethel AME Church. Interment will be at Christiansted Cemetery.
Funeral arrangements are entrusted to James Memorial Funeral Home Inc.
Due to the COVID-19 pandemic and public health regulations, face masks must be worn at all times and social distancing adhered to.