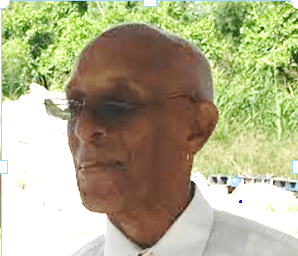 Kenneth Delano Steele, a.k.a. "Steelo," of Estate La Grange, Frederiksted, died on March 27. He was 79 years old.
He was preceded in death by his mother, Eugenia S. Jaffett; father, Alberto A. Steele; and sister, Olga McIntosh.
He is survived by daughter, Kim Steele; sons: Kenneth Steele Jr., Kirk Steele and Kewonn Steele; adopted son, Paulino Bogan; and grandchildren: Gerraine Sylvester, Niurka "Nikki" Henderson, Kia, Kenneth III, "Tre," Tyrell, Kaya, Kyran, Koen and Karwyn Steele; great-grandchildren: Marvis Chamaro Jr., Kimberley Ward, Amari and Aleya Thomas; brother, Carlos Steele.
Other survivors are nieces: Eugenia Simmonds and Karen McIntosh; nephews: Raymond "Mash" McIntosh and Carlos Steele Jr.; great nieces: Jeaneve Simmonds, Unika McIntosh, Shakema Jacobs and Khadysha Schoonmaker; great nephews: Alphonso Garvey, Steve Simmonds Jr., Shaleem Williams, Shaveem Roberts and Raymond Shaw; daughters-in-law: Aretha Maduro Steele and Cynthia Arnold Steele.
Other survivors include brother-in-law, Robert McIntosh; sister-in-law, Myrna Sylvester; godchild, Nadja Nieves; special friends: Elroy Henderson, Angel and Theodora Nieves, Roy Thomas and family, Marcela Saldaña, Jessica Cornelius, Marsh and Basile Bryan, Jennifer Brady, Usie Richards, 340 Misfits Motorcycle Club, St. Maarten Caribbean Eagles Motorcycle Club, the Arnold family, Barbara Hermon and the Howell family; as well as other relatives and friends too numerous to mention.
Due to the COVID-19 pandemic and public health regulations, masks and facial coverings must be worn at all times.
Funeral service will be held at 10 a.m., Wednesday, April 14, at St. Patrick's Catholic Church. Interment will be at Frederiksted Cemetery.