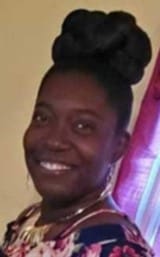 God will wipe away all tears from our eyes. The family of Jahnesha Barnes announces her transition on March 5 at the age of 39.
Jahnesha Barnes, who was affectionately known as "Nesha," was born on Jan. 16, 1982, in Antigua, West Indies. She was a graduate of the Charlotte Amalie High School Class of 2000. Nesha then began her military career with the United States Army, and she served eight years until becoming a medical retiree.
She is survived by her mother, Eulanda "Vincia" Harrigan; father, Dander "Boco" Barnes; daughters: J'Nyah Barnes-Numa and Neseya Barnes; sisters: Kemah Barnes-Henry, Zeshenah Barnes-Carbon and Mackila Williams; brothers: Jahfimba "Fimba" Barnes, Keithroy and Kenroy Colbourne; and brothers-in-law: Andre Henry and Curtis Carbon.
She is also survived by aunts: Patricia "Avonella" Joseph-Walker, Patricia "Patsy" Charles, Vanessa, Veron, Claudia, Randy and Adria Harrigan, Jillian, Nyla, Ianthe and Semone Barnes and Elaine Nedd-Perry; and uncles: Avery, Linroy, Kensworth, Delvin, Edwin, Browne, Mitchell and Carlos Barnes, Zenworth "Zingo" Thomas and Wendell Walker; nieces: Solimar, Jahnemah and Jahmirah Barnes, and Avanni Henry; and nephew, Kaeden Carbon.
Other survivors include cousins: Sancia Joseph-Jarvis, Las, Samiria, Sky-lar and K'Mijah Walker, Kadema Freeland and children, Kamali and Kamilya Faustin, Mahkai and Mahkaya McCleary, Jerisa Bailey-Cutter and children, Jernise, Jersiah, Jerkyle and Jerloni Cutter, Shanema Abbott, J'Moi Charles, Jahsie Mahoney, Gavinia Michael, Candi Athanaze, Jocelyn and Amaya Harrigan, Lana Harrigan-O'Garro and sons, De'Andre and De'Vaughn O'Garro, Roxanne Barnes and others too numerous to mention; goddaughters: Kiara Natta, Tanyelle Humphreys and T'Miah Martin; godsons: Andre Walker, Kimani Hurley and Temauli Martin; special friends: Jeanette Natta, Lea Jones, Nicole Brooks, Marvin Martin, Tracy Marsh, Jeanette Anthony, Ivorlyn Gore, Emeka Roberts, Tiffany Ceasar, Din Sanderson, Alpheus O'Garro and CJ; as well as others too numerous to mention.
The thanksgiving of the life of Jahnesha Barnes will take place Wednesday, April 7, at Turnbull's Funeral Home. The viewing will be held at 2 p.m. followed by the service at 3 p.m.
Due to the COVID-19 pandemic and public health guidance, masks or facial coverings must be worn at the time of service.
Attendees are asked to wear festive colors. The funeral service will be streamed live on Turnbull's Funeral Home Facebook Page.