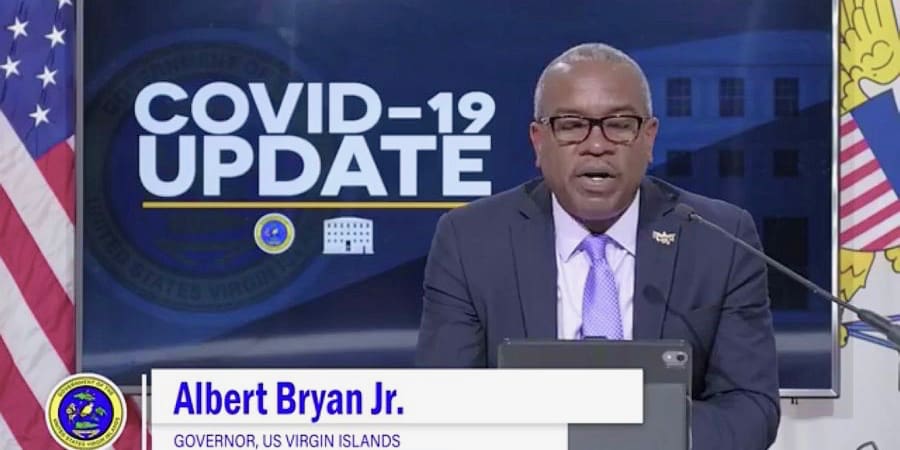 With 14 out of 50 states at high risk for a COVID-19 surge, the U.S. Virgin Islands has one of the lowest weekly positivity rates in the nation at 1.55 percent, with 3,194 residents tested in the past week alone and 64 active cases being tracked.
Speaking at Monday's weekly press briefing, Gov. Albert Bryan Jr. offered credit to the Health Department team, the government's COVID-19 Task Force and local residents for taking the restrictions and response efforts seriously.
"I just wanted to say thank you – a real thank you – for making it possible. This is just a glimmer of hope, I know, but more importantly, it's a really encouraging sign that we are headed in the right direction with our efforts to stop the virus here in our community. We are going to bring this thing to a screeching halt," he said.
Continuous testing has helped ensure that cases are being caught early, jumping from about 50 tests being conducted daily at the beginning of the pandemic, to now about 300. Bryan said that more than 3,000 residents were tested in the past week alone.
Cracking down in the past few weeks on the uploading of fraudulent COVID tests onto the USVI travel portal has also helped. Bryan said on Monday that in the past week, two arrests have been made, including one St. Croix resident on Saturday who was flying home from Miami. Reminding residents that uploading a fake test is a felony punishable with fines and possible jail time, Bryan also said that it is easier for those who travel frequently and are fully vaccinated to get a positive antibody test, which would be valid for up to four months.
"This is a kind of community herd immunity we have to attain if we're going to beat this and get back to our normal lives," the governor said. On the vaccination front, 28,933 residents have received at least one dose of the COVID vaccine, with 17,102 fully vaccinated. All residents age 16 and older are eligible and can either visit one of the territory's three community vaccination centers or call 340-777-8227 to schedule an appointment.
Bryan also issued a plea to undocumented residents, saying that there are no immigration concerns. The government just wants "everybody to be safe" by taking the vaccine.
While non-essential has been deemed safe by the Centers for Disease Control, the territory does require visitors traveling in to upload a negative PCR or antigen test, or a positive antibody test. Those traveling to the U.S. do not, however, need to get tested before or after traveling or self-quarantine after traveling unless the state they are traveling to requires it.
Full requirements for travel to and from the territory are online here.
As of April 5, 90,048 COVID tests have been administered, with 2,945 positives and 87,103 negatives. Among the 64 active cases are three patients at the Gov. Juan F. Luis Hospital on St. Croix, one of whom is vented, and two at Schneider Regional Medical Center on St. Thomas.